Shocking stats released this week show that one-in-five lives are cut short by an unhealthy diet. What we eat is now a bigger killer than smoking. How can that have happened? Well, sadly, low-nutrient food is too easily available and often very cheap. But there are some very simple, effective ways to change our diets.
The report in The Lancet  found that too much salt, and too few whole grains, were the biggest killers: with each responsible for three million deaths each year.
The top ten most dangerous diets:
Too much salt
Too few whole grains
Too little fruit
Not enough nuts and seeds
Too few vegetables
Not enough omega 3 fatty acids
Low levels of fibre
Not enough polyunsaturated fatty acids
Low levels of legumes
Over-consumption of trans fats
We've spent five years on our age-well project testing recipes and ideas to help combat these killers. Here are some of our favourites from the blog:
Use herbs and spices to flavour food rather than salt. We use this spice blendwith everything – vegetables, eggs, roast meat and fish.
Our larders are full of cheap but exotic whole grains: wheat berries, freekeh and quinoa are a few of the best. But don't forget the high-fibre benefits of a simple bowl of brown rice. Try our baked za'atar chicken or this kale and black sesame rice bowl
Don't use fruit solely for desserts and snacks. We like it in savoury dishes too. Try venison with blackberry and apple sauce or this sweet and sour cherry bowl
We'll top almost any dish with a sprinkling of nuts and seeds. Or eat a handful as a snack. Try this meat-free main: Walnut-stuffed sweet potatoes
Our vegetable sauté isn't really a recipe, more of a method.  It's so adaptable, we come back to time and time again.
We've made oily fish an essential part of our age-well diet. And eat it at least twice a week. We aim for smaller fish which are lower in mercury like sardines, anchovies and mackerel. Watercress and pea puree with smoked mackerel and spaghetti with sardines are good recipes to try.
We kept fibre diaries while we were writing our book and get fibre from whole grains, beans and legumes.
Try oily fish, sunflower seeds and walnuts to boost levels of polyunsaturated fats. This Walnut dip recipe takes minutes to make and goes with everything.
We eat pulses every day. Try the roasted chickpeas shown in the photo or a soup like our Turkish red lentil soup
There's no way round this: avoid deep-fried and fast food.
There's a good analysis of this report by the brilliant Bee Wilson in the Mail
https://www.dailymail.co.uk/news/article-6892441/The-food-choices-make-blame-one-six-deaths-writes-food-historian-BEE-WILSON.html
DRUM ROLL PLEASE……
We're so thrilled to share the cover of our book with you. It's been a long time coming and we can't believe that publication day is less than a month away. We love the spare, elegant design and the sub-title 'Easy Ways to a Longer, Healthier, Happier Life'. Says it all!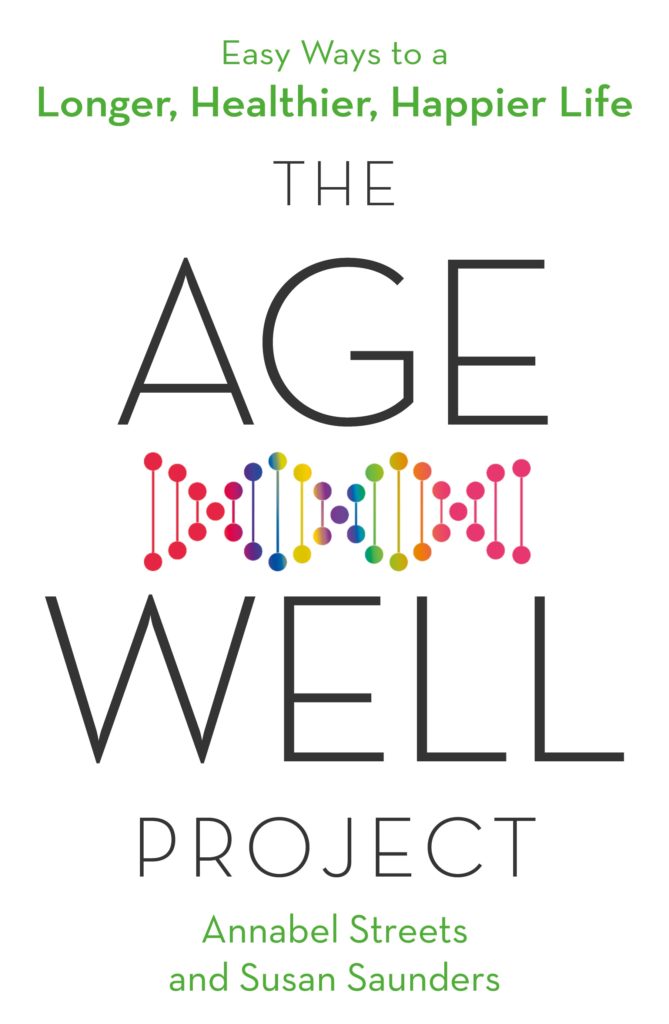 The Age-Well Project is available for pre-order on Amazon now:
https://www.amazon.co.uk/Age-Well-Project-Ways-Better-Longer/dp/0349419701/ref=sr_1_1?crid=3MWNNXMFXYUCW&keywords=the+age-well+project&qid=1554552833&s=gateway&sprefix=the+age-well+p%2Caps%2C128&sr=8-1
Susan