This site is for anyone who wants to make the second half of their life as healthy, happy and disease-free as possible – using good food. We're doing all we can to age well – to live out our lives free from zimmer frames, dementia, heart disease, arthritis and fractured hips. We know that eating well NOW – in middle age – is the key … according to the University of Eastern Finland, people who ate the healthiest diet at 50 had an almost 90% percent lower risk of dementia.  Diet-related disease is on the increase across the world, and we don't want to add to the stats. It's not easy – we're keen cooks but we're juggling fussy-eating children, elderly and sick parents, nut-resistant husbands and naughty dogs.  We live in the real world – where time is short, money often tight, stress levels high.  So we want  food that fits.  And food that's fun.
For the last two decades we've been creating and collecting recipes that are fast, easy, delicious – and massively nutritious. We've been making food that works for our families – recipes packed with age-enhancing ingredients that even our steak-and-beer loving husbands enjoy. We're neither doctors nor nutritionists but we both have backgrounds in research and for the last two decades we've been following medical research into degenerative disease.  So we bring you the latest research on  healthy ageing  in bite-sized chunks, with recipes to match.  We look at how to make the most of seasonal superfoods and show you how to cook with the latest age-busting ingredients (including the ones you've never heard of before and don't know how to use).  So stick with us …  And please send us any comments. We'd love to hear from you… Annabel and Susan
ABOUT ME – ANNABEL
I'm a writer and author with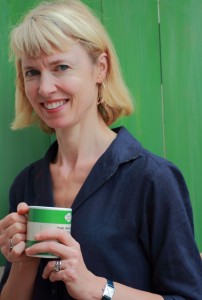 four children (aged 10-17).  My passion for food and nutritional knowledge go back almost three decades. By the time I reached the age of 25, I'd been diagnosed with an incurable inflammatory disease, watched my grandfather die of cancer just weeks after retiring, seen my grandmother succumb to dementia and rheumatoid arthritis so crippling she could no longer move her legs or her hands – and I'd been a finalist in the Elle Magazine Cook of the Year competition.  Oh – and met my now-husband, a bona fide foodie with a severe distrust of pulses! I love cooking with seasonal and local foods, particularly those grown in my Sussex kitchen garden. My food is healthy, eclectic, fresh and unfussy.  I love salads and cake – who says you can't have it all?
ABOUT ME – SUSAN
I'm a TV producer, and cookbook author. I'm lucky enough to have worked with world-renowned chefs including Gordon Ramsay, Raymond Blanc and Jean Christophe Novelli. A cookbook I started writing at University – A Survival Guide To The Student Kitchen – has been in print for 20 years.  These days, I'm passionately committed to eating well and living well. Wellness, in fact.  My elderly mum suffered severe dementia for over 12 years until her death late in 2015. Caring for her, while raising a family and having a career, was very hard. As a teenager, I watched her do the same for her mother. I will do everything I can to spare my daughters that burden.  I don't have tons of time to spiralise courgettes or juice greens, but I do love delicious, wholesome – and mainly plant-based – foods that are quick and easy to prepare. I'm greedy AND curious – always ready to try new things on behalf of Kale & Cocoa!
ABOUT HEALTHY AGEING
We're fed up with all the talk about anti-ageing! You can't fight ageing … it happens to everything and everyone, always has and always will.  Instead, we think ageing should be accepted and enjoyed.  But to really enjoy our old age, we need to be as healthy as possible.  Healthy ageing is about taking control of your life, preparing your mind and body for what should be the best years of your life.  We don't want to be younger!  Not for all the goji berries in China would we turn the clock back to our angst-ridden teens, our penniless and hung-over twenties, our exhausted child-bearing thirties.  We love being in our forties and fifties and we have every intention of loving our fifties, sixties, seventies and beyond. This blog is our healthy ageing journey!