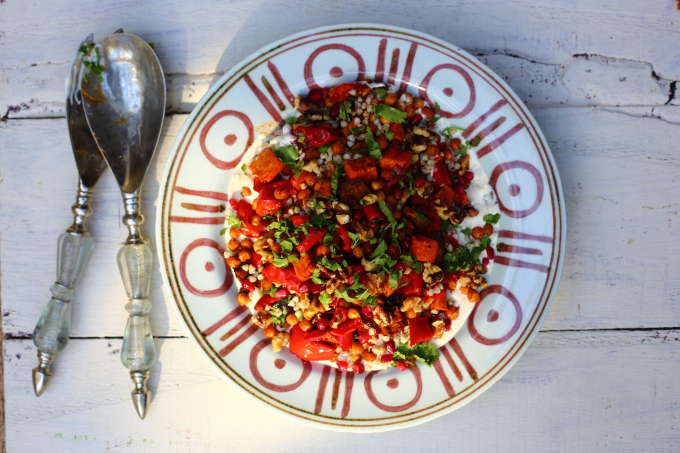 While wrinkles and grey hair may be the external signs of ageing, there's a whole other process going on inside our bodies. 'Inflamm-ageing' is the term coined by doctors to describe the low-grade inflammation  intrinsically linked to the process of growing older.
It plays a central role in the all the chronic conditions of ageing: insulin resistance and type-2 diabetes, cognitive decline and reduced mental well-being; weight gain and loss of mobility; immune system decline, cancer and cardio-vascular disease. Research we wrote about here last year has shown that inflammation is as vital a target as cholesterol levels in heart disease prevention.
So why does this inflammation occur in our bodies as we age? There's a range of possibilities, but recent research has pointed the finger at the gut. Our microbiome changes as we age: the result of a lifetime of dealing with harmful bacteria. It may be that at some point it tips over from being an anti-inflammatory environment to a pro-inflammatory one. In other words, it just holds up its hands and says 'enough's enough'.
Two rodent studies published last year support this theory. One transferred gut microbiota from elderly mice to young, germ-free mice. After four weeks, the young mice showed signs of inflamm-ageing, indicating that something in the microbiota was driving the inflammatory process. In another study, when mice were kept in a germ-free environment, they lived longer and aged better than mice in a normal environment. The germ-free mice had no inflammatory markers, cytokines, circulating in their systems. But when they mixed with elderly mice, there was increase in the cytokines in their blood.
So can we keep our gut microbiota young and reduce our 'inflamm-ageing'? There's evidence that the Mediterranean Diet can help this process – people who eat the Medi diet have lower levels of circulating inflammatory markers.  And research published last week indicates that eating yogurt may have a beneficial effect.
A quick disclaimer: this research was funded by the National Dairy Council of the USA. So they have a vested interest. But I spoke to a Harvard Professor last week as research for our book The Age-Well Project, and he suggested we shouldn't dismiss funded research. As he put it, "Well, who else is going to pay for it?!" A good point.
Anyway, back to the yoghurt. Researchers at the University of Wisconsin-Madison gave women a portion of yogurt each day. The control group had a 'non-dairy dessert' instead. After nine weeks, the yoghurt eaters had lower levels of circulating inflammatory markers than the others. This seems to bolster the theory that yoghurt helps to strengthen the gut lining, so that endotoxins — 'bad' bacteria produced by the gut — can't cross into the bloodstream and cause inflammation. In a further experiment, participants were fed a huge breakfast of sausage muffins and hash browns. Half proceeded their 'feast' with a bowl of yogurt, and half didn't. Those who'd started with yogurt had fewer circulating endotoxins later in the day than those who didn't.
I'm not sure that I want to start each meal with yogurt, but it's fascinating to see the impact that a small dietary intervention can have on inflammation in our bodies.
This week's recipe contains plenty of yogurt, and many of the ingredients which make the Mediterranean diet so powerful. It also features an 'under-dressing': one of my favourite foodie discoveries of recent years. Essentially, a thick dressing is slathered on the serving plate first, then the other ingredients are placed on top. Do trust me on this, this salad is one of  the most delicious things I've eaten in ages.
HARISSA-ROASTED VEGETABLE SALAD WITH YOGURT-TAHINI UNDER-DRESSING (serves 4-6)
FOR THE SALAD:
50g buckwheat (or a grain like brown rice) cooked as per packet instructions and cooled. This is a good opportunity to use up leftovers!
800g prepared weight of veg to roast – sweet potatoes, red peppers, courgettes, aubergine, broccoli florets – your choice.
400g tin of chickpeas, drained and rinsed
50g walnuts
6 tbs olive oil
2 tbs harissa
1 tsp sweet smoked paprika
FOR THE UNDER-DRESSING:
200g Greek yogurt
3 tbs tahini
Juice of half a lemon
2 cloves of garlic, crushed
TO SERVE, OPTIONAL:
Pomegranate seeds, 2 tsp of za'tar or 2 tbs of fresh chopped herbs like coriander or flat-leaf parsley
Pre-heat the oven to 180C. Mix the oil, paprika and harissa. Season well. Mix 1 tbs of the harissa oil with the chickpeas. Put into an oven-proof dish. Chop the vegetables into bite-size pieces for roasting. Pour the remaining harissa oil over the vegetables and stir well to coat all the pieces.  Put them into a separate dish. Roast both dishes for 30 minutes. Pop the walnuts into a small dish and put them in the oven for the last 10 minutes of cooking time. The chickpeas should look darker and crunchy, the veg will be caramelised and starting to char. Leave to cool.
Mix together all the ingredients for the under-dressing and season well. Spread out on a large plate or serving platter. Then layer up the rest of the ingredients on top of the dressing: half the veg, buckwheat, chickpeas and walnuts. Repeat. Top with herbs, za'tar and/or pomegranate seeds.
Susan