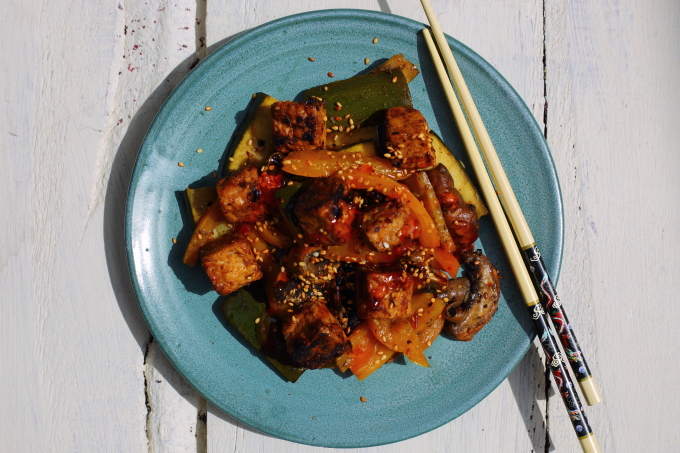 You may have noticed that at Kale & Cocoa we are pretty much gut obsessed. From my perspective, it's been a real education to discover how closely the health of our brains (and the rest of our bodies) are linked to the well-being of our gut.
There's new research published all the time: this week scientists in Paris have revealed that  people with a greater abundance of a bacterium called Akkermansia muciniphila have lower blood glucose and lipids, as well as healthier distribution of body fat. Read more here: http://www.medicalnewstoday.com/articles/295732.php Our heavily-processed, modern diets are killing off our microbiota. Gut health is at its best when our diets consists of lots of unprocessed whole foods, particularly a wide range of vegetables (read Annabel's post about this from last week, here) because these foods promote diversity among the microbiota.
Which brings me onto fermented foods. It seems that, not content with numbering tens of trillions, the body's microbiota is always on the look-out for new friends.  And their BFF are foods which are already packed with good bacteria. A process called lacto-fermentation produces probiotics – bacteria which works in harmony with the microbiome – and tasty food too. Natural bacteria feed on sugars and starches in food, creating  beneficial enzymes, B vitamins and omega 3 fatty acids as well as those vital probiotics. The probiotics – and the fact that the fermentation process also breaks down food to a more digestible form – explains why consuming fermented foods leads to better digestion.
Most traditional diets from around the world include fermented foods – like miso from Japan and Sauerkraut from Eastern Europe – which have been revered for centuries for their health-giving properties. Our heavily processed modern diets have left these traditional foods behind, so it's fantastic that they are being revived and given the respect they deserve.   The magnificent seven to look out for are: tempeh, miso, sauerkraut, yoghurt, kefir, kombucha and kimchi. The great thing is that you don't have to eat much to reap the benefits – a tablespoon or so each day makes a huge difference. Preserved vegetables like sauerkraut and kimchi (Korean pickled veg with chilli –addictive) can be served alongside a main meal or salad, yoghurt can be topped with fruit for breakfast or a snack, kefir (cultured milk) and kombucha (a fermented tea) make refreshing drinks, miso is great in soups and dressings. Which just leaves tempeh. I love tempeh.  It's the Indonesian cousin of tofu, but instead of being heavily processed, it consists of whole soya beans which have been cultured and then pressed into a block. It's slightly nutty in taste and has a much more interesting texture than tofu. It just doesn't seem to be that popular in Britain. I've lived in the U.S. and Canada and it was pretty easy to get hold of –here it is much more specialised. But most health food shops – small local ones as well as Whole Foods and Planet Organic – have it either in the fridge or freezer section. It always seems to be the same brand – Impulse Foods http://www.impulsefoods.co.uk/ which is very good. I've also found a delivery service – http://www.freshtempeh.co.uk/  – which looks wonderful and I will definitely try – they make your tempeh to order, a sort of haute couture for cultured foods!
This week's recipe is a super simple tempeh stir fry – the sort of thing you can throw together in minutes for an adult dinner. Tempeh needs some robust flavours and a quick marinate – just a couple of minutes will do – to make it really sing.
TEMPEH STIR FRY (serves 2)
200g block of tempeh
4 handfuls of vegetables, chopped (we used mushrooms, courgettes and yellow pepper for the picture, but I have also done this with cabbage and leafy greens)
1 tbs light cooking oil – coconut or olive oil
Half a portion of our Asian-style salad dressing – recipe here
FOR THE MARINADE
1 tbs soy sauce
1 tsp crushed ginger
1 tbs fruit juice (apple, orange, pineapple – whatever you've got)
1 tbs toasted sesame oil
1 tbs fish sauce
1 tbs sweet chilli sauce
2 cloves of garlic, peeled and smashed
To serve – 1 tbs sesame seeds, sweet chilli sauce, toasted sesame oil
Mix together the marinade ingredients in a shallow bowl. Cut the tempeh into cubes – think large croutons here – and mix into the marinade. Leave to one side while you prep veg into bite-size, stir fry-able pieces.
Toast the sesame seeds into a dry wok – they only take seconds so watch like a hawk. Tip them onto a plate. Scoop the tempeh out of its marinade and into the hot wok. Don't move it around too much – you want a dark crust on the tempeh cubes. This will take about five minutes. Then tip the tempeh out onto another plate. Add the oil to the wok and heat through before throwing in all the veg. Stir fry for a couple of minutes before adding the Asian salad dressing. Cook for another couple of minutes then stir in the remainder of the tempeh marinade (but not the garlic) and the tempeh. Allow it all to heat through then serve topped with the sesame seeds and a drizzle of sweet chilli and sesame oil. This could be served over noodles or rice but I find the tempeh really filling.
Susan