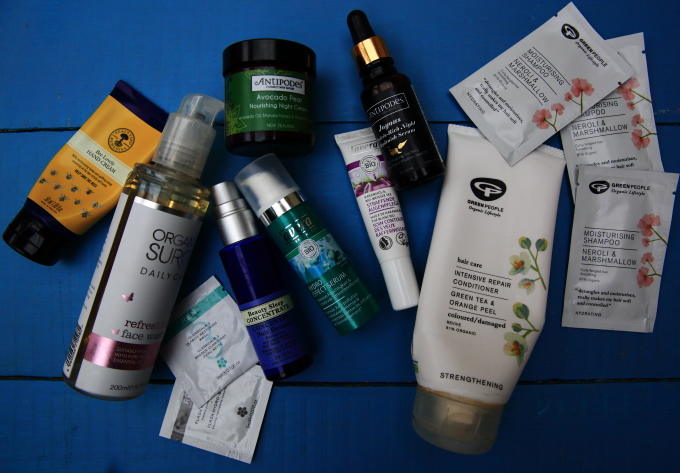 Trawling through the mountains of research for our book has made us think long and hard about the many factors involved in ageing well. We usually focus on what goes into our bodies, either through what we swallow or what we inhale. But what about all the things we put on our bodies?
Researchers still don't fully understand how the thousands of chemicals we're exposed to interact either with each other or with our cells, DNA or our microbiota. So a few months ago I decided to replace my 'personal care' products with less technologically complex and chemical-laden products. This meant swapping my big brand shampoos, moisturisers, lipsticks and sunscreens for organic or paraben-free products.
Needless to say I felt both despairing and ahead of the curve when recent research linked the chemicals in personal care products with the hormonal changes researchers now suggest may be linked to breast cancer and declining fertility. I'm not worried about declining fertility at my age, but my ears pricked up at the mention of breast cancer.
This isn't the first time that ingredients used in cosmetics have been under the spotlight. The breast-cancer-paraben link was first mooted back in 2004, when a study from the University of Reading found traces of five parabens (a preservative used in beauty products to stop them going mouldy) in the breast tissue of 19 out of 20 women sampled, proving that parabens can pass into our bodies via our skin.
The debate has widened since then. This latest study (published in Environment International) claims to be the first exploring the way in which cosmetics and beauty products affect hormonal change in women. What interests me is its examination of the mix of chemicals we're exposed to. Previous studies have looked at the impact of a single chemical – but most of us are swimming in a cocktail of chemicals and it's often the reactions, and the accumulation over time, that are unknown and un-tested. This affects women more than men as we typically use many more beauty products, all of which enter our bodies via our skin.
In this study 509 urine samples were collected from 143 women aged 18 to 44, and measured for environmental chemicals like parabens (preservatives used to stop products going mouldy), and benzophenones (ultraviolet filters that prevent products from damage by sunlight, with variants used in sunscreen), both of which are widely used in products ranging from lip balm, nail varnish and tinted moisturiser to sunscreen and face-wash.
The study found that even low-level exposure to mixtures of chemicals affected reproductive hormone levels. It also found that certain chemical and UV filters were associated with decreased reproductive hormones when used in a multi-chemical situation (ie used alongside products containing different chemicals) while others were associated with increased reproductive hormones, confirming the infinite complexities of the chemicals we slap so carelessly (and sometimes expensively) on our skin.
The lead researcher explained "We may need to be careful about the chemicals in the beauty and personal care products we use. We have early indicators that chemicals such as parabens may increase estrogen levels. If this finding is confirmed by additional research, it could have implications for estrogen dependent diseases such as breast cancer."
So. More research needed. But this week, another report popped up linking the chemicals in personal care products with the increasingly early puberty of boys and girls. Turns out that pregnant women are passing chemicals from personal care products through the umbilical cord to their unborn babies, affecting their babies' hormonal development a decade later. "We know that some of the things we put on our bodies are getting into our bodies, either because they pass through the skin or we breathe them in or we inadvertently ingest them," said associate professor, Kim Harley, author of the report.
Studies have already shown that exposure to the chemicals in beauty products can alter reproductive development in rats. Chemicals that have been implicated include phthalates, which are often found in scented products like perfumes, soaps and shampoos; and parabens. Sadly but unsurprisingly, parabens have, like plastic, been found in the intestines of marine wildlife with effects not yet fully understood.
It may turn out that long-term usage of multiple chemicals delivered via human skin is perfectly safe (let's hope so), for ourselves and for the environment. But we just don't know. Until then I'm steering clear of the big commercial chemical-laden brands, whatever they promise.
PRODUCTS WE LOVE
Fortunately there are lots of fabulous beauty products that aren't chock full of chemicals. Look for the words 'free from parabens' and 'free from synthetic colours and fragrances'. Or switch to certified organic products.  But do keep an eye on the 'use by' dates, as products without parabens may have a shorter shelf life. I'm particularly pleased with:
My Lavera serum – which also claims to counter pollution
Green People shampoo and conditioner – as effective as the lavishly marketed products I used before.
A gorgeous Avocado Pear Nourishing Night Cream from New Zealand company, Antipodes.
An inexpensive face wash from Organic Surge
Any Neal's Yard product (Husband, are you reading this?)
Want to check out the products you're using? Go to www.safecosmetics.org or there's a comprehensive database at www.ewg.org where you can type in your favourite products and see how toxic (or not) they are: www.ewg.org/skindeep/#.W6qneWhKg2w will take you straight to the database. A score as close to zero is what you're aiming for. If your product scores closer to 10, swap it for something that's kinder to you and kinder to the environment.
Do share this with any beauty product junkies in your life… and send us any recommendations of your own. We'll circulate them in our next post on the subject.
Annabel