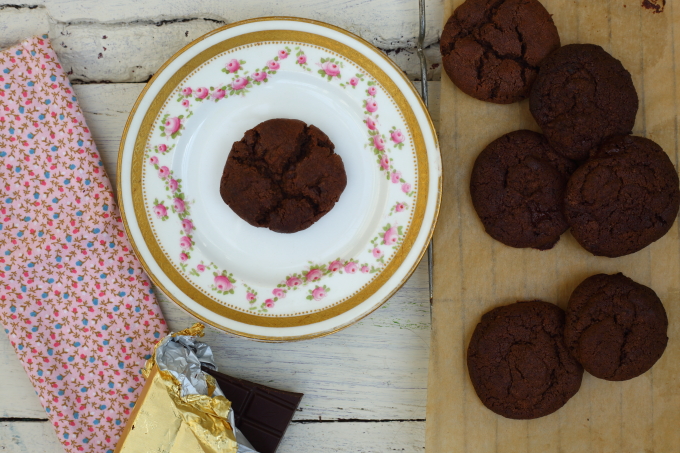 News that has made me happy this week. And news that has saddened me. And throughout it all my children – along with thousands of others – have been revising and sitting a relentless string of exams. Which is why today's recipe is one you don't often see on our blog: chocolate biscuits made with good old-fashioned butter and sugar (but with a healthy twist). I have to say they're very good and very easy – I've made them every day this week.
You may recall from my last post that dark chocolate is excellent fodder for exam sitters. Professor David Kennedy, director of the Brain, Performance and Nutrition Research Centre at Northumbria University found that people were able to do calculations more quickly and more accurately after consuming dark chocolate. He speculated it was due to ark chocolate's high levels of polyphenols and small amounts of caffeine. It's much easier to persuade a child to eat a cookie than to eat unadulterated chunks of very dark chocolate, which is why I spent last week fiddling around with chocolate biscuit recipes. I'm rather pleased with the one below, if I say so myself. You could also try my friend's chocolate brainies recipe which is a little healthier but still includes caffeine and plenty of chocolate. And yes, we've had a bowl of blueberries on the table every day. It's all costing me a small fortune.
This week (forgive the upcoming boast, it has a purpose) my son won a nationwide cookery competition judged by Mary Berry. I wish I could say his submitted recipe used flaxseeds and brewer's yeast. But of course it didn't. I can't share the recipe because it's appearing – soon – in a magazine. Suffice to say it's rich in sugar and cream – and very delicious.
I'm beginning to think sugar has been unfairly demonised. As Professor Longo (author of The Longevity Diet) said: "Sugar is not the problem… it's the intake of excessive quantities in combination with proteins and certain types of fat." An interesting blog post from Dr Kendrick makes the same point. He refers to a report called 'Sugar and artificially sweetened beverages and the risks of incident stroke and dementia – A prospective Cohort Study.' (Oh we do like a catchy title!) The next 3 paragraphs are taken direct from his blog (https://drmalcolmkendrick.org/) which is a personal favourite of mine.
'Results—After adjustments for age, sex, education (for analysis of dementia), caloric intake, diet quality, physical activity, and smoking, higher recent and higher cumulative intake of artificially sweetened soft drinks were associated with an increased risk of ischemic stroke, all-cause dementia, and Alzheimer's disease.
When comparing daily cumulative intake to 0 per week (reference), the hazard ratios were 2.96 (95% confidence interval, 1.26–6.97) for ischemic stroke and 2.89 (95% confidence interval, 1.18–7.07) for Alzheimer's disease. Sugar-sweetened beverages were not associated with stroke or dementia.'3
In short, those who drank artificially sweetened soft drinks were nearly three-fold more likely to have a stroke. In addition, they were very nearly three times as likely to suffer from Alzheimer's disease.
My house certainly contains plenty of sugar. In bags though, not in fizzy drinks or anything else for that matter. I firmly believe children should bake. It may be one of the most important life skills we can give them, particularly following recent news that a quarter of the world's population will be obese by 2045. If children can bake, they can cook. And if they can cook they're unlikely to become reliant on, or enjoy, processed food. But show me a child who wants to bake a nut roast… cooking skills inevitably start with a bag of sugar. Sorry.
And the news that has saddened me? The untimely suicide of 55-year old designer, Kate Spade. Three months ago I chatted to a Doctor at a conference where I was speaking. He specialised in mental health and so I asked for his thoughts on the mental health crisis in teenagers and old people. To my surprise he shook his head in vigorous disagreement. "That's just the newspapers," he said. "The real crisis is in middle-aged women. They take far more anti-depressants and suffer far more depression than any other group. But they don't talk about it, they just take the pills."
He was right. And finally it's making headlines: suicide is one of the leading causes of death among middle-aged women. Sadly, it's also on the rise.
The Samaritans – Tel: 116 123
Brain Boosting Very Dark Chocolate Biscuits (with hidden chia seeds and reduced sugar)
This makes 30 biscuits, enough for a few days of revising. Make the dough, keep it in the fridge and when sustenance is required, bake as many as you need, before returning the mixture to the fridge, where it'll wait quite happily until you're asked to make more!
150 g butter
200 g soft brown sugar
1 egg
1 tsp vanilla extract
200 g plain flour
30 g ground chia seeds
4 tbsp quality cocoa powder
½ tsp bicarb of soda
¾ tsp baking powder
100 g of

85%

dark chocolate, chopped into small bits
Heat the oven to 170 degrees.
Cream the sugar and butter for a few minutes. I use my trusty KitchenAid.
Add the egg and vanilla extract and mix until well blended.
Sift the dry ingredients. If you can't be bothered to sift, just throw them into the wet mixture and give it all a good stir.
Roll into walnut-sized balls and place on lined baking trays, leaving room for spreading.
Bake for 12-14 minutes. Cool for a couple of minutes in the fridge if your hungry mouths can't wait. These are very good oozingly warm.
Annabel