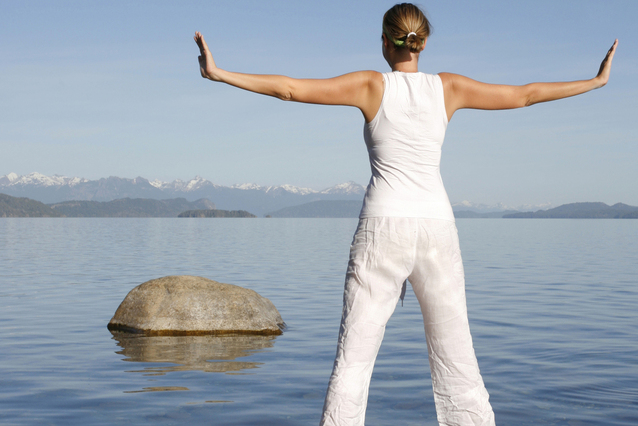 Get more exercise, take more care of our gut health: two of the most important things we've learnt on our Age-Well Project. And so it was no surprise to discover that one influences the other.
Our gut bacteria can help us get fitter, so looking after them is as key as a good pair of trainers when we exercise! Energy levels and endurance during a workout are influenced by the effect 'good' bacteria have on our hormones and blood sugar. Our microbiota also helps our bodies to recover afterwards, managing lactic acid (which builds up in the muscles during exercise and can give us a 'stitch') and boosting nutrient absorption so our bodies can rebuild and repair.
Research shows that our microbiome adapts according to the exercise we do: the guts of professional cyclists are primed to synthesise amino acids produced during rigorous training. And long-distance runners have higher concentrations of bacteria which help with muscle maintenance and the breakdown of lactic acid.
And it works both ways: exercise boosts our microbiota. Regular exercise increases both the number of good bacteria in our gut and the diversity of species found there. Just a few weeks of consistent exercise can make a difference. And, of course, exercise reduces stress levels, and stress disrupts our microbiota.
Research published this week digs further into the relationship between gut health and exercise. It reveals that people with higher cardio-vascular fitness have more gut bacteria diversity than those with lower cardio fitness. This is the first time that microbiome diversity has been linked specifically to fitness levels rather than simply the fact of taking exercise. It was only a small study and participants were all recovering from breast cancer. This is important because cancer treatment often has a negative impact on fitness levels, so the researchers were able to test participants as their fitness levels recovered after treatment.
5 TIPS FOR EXERCISING SAFELY
Exercise, at any age, needs to be safe. And the older we get, the harder it is to recover from injury. Follow these tips to help you exercise without strain:
Don't work out through pain. If you think you're injured, rest and consult a doctor/physio
Have a least one rest day to allow muscles to rest and repair. We usually take two a week (sometimes three!)
Stretch before and after exercise – increasingly important as we get older
Don't just do one type of exercise – complement cardio or high-impact workouts with more gentle stretch-based movement like yoga or pilates
Look after your bones – green veg, dairy products and tinned sardines deliver bone-building nutrients. Our sardine and watercress pate contains all three.
OUR MICROBIOTA NEEDS CHOCOLATE
While I'm talking about gut health, I feel it's my duty to remind you that chocolate is good for your microbiota. Several studies show that consuming cocoa increases levels of good bacteria. People who consume more cocoa have higher levels of Lactobacillus and Bifidobacterium bacteria, which help reduce inflammation in the body.
Our chocolate-chestnut cake got a lot of love on social media when I shared a pic of it on Valentine's Day. But why keep it for February 14th? It's a wonderful winter cake and so simple to make.
And we've got mock A-levels coming up in our house, so we'll be baking lots of our chocolate chia cookies for their brain-boosting power (and they're delicious!)
THE BOOK!
HUGE excitement for us both this week when thick envelopes bearing the page proofs of our book thumped onto our doormats. Lots of proof-reading ahead of us so we'll need those brain-boosting cookies too! You can pre-order The Age-Well Project on Amazon here
Susan
Photo: Alex Bramwell