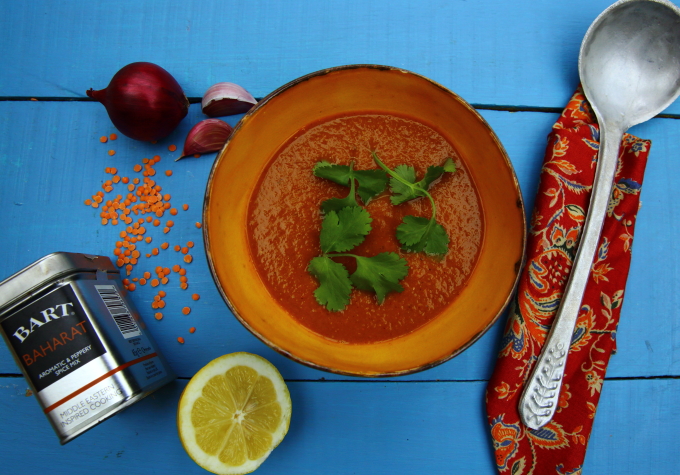 With this week's news focusing on the link between junk food (ultra processed food) and cancer, diabetes, heart disease and … death, we thought the best thing we could do was provide a recipe that's almost as simple and convenient as a ready meal but brimming with nutrients, fibre and anti-oxidant-rich spices.
I was introduced to Turkish Red Lentil Soup by a wonderful Turkish au pair, Natalin, who I was lucky enough to have in my life for a year when my children were small. I've made this soup regularly since then. It's hugely forgiving: add carrots, sweet potatoes, dried mint, whatever needs eating from the back of the fridge or larder. It only takes five minutes to prepare – less time than it takes to pop to the shops for a ready meal. It needs a 40-minute simmer, but then you've a week's worth of soup in the fridge. What's not to like?
TURKISH RED LENTIL SOUP
3 red onions, roughly chopped
3 sticks celery, roughly chopped
3 cloves garlic
250 g red lentils
3 tsp Baharat spice blend
3 tsp sea salt
1 litre veg stock
1 can tomatoes
Quickly fry the onions and celery in a splash of olive oil until just soft. Add the garlic, peeled but not chopped, the lentils, stock, sea salt and tomatoes. Cook for 30-40 minutes until the soup is thick, adding a little water if it's too thick.
Blend 'til smooth and serve with lemon wedges (it glows in the mouth with a good squirt of lemon juice). Add a sprinkling of chopped mint or coriander if you have it to hand. A dollop of yogurt or a fistful of crumbled feta would work well too.
Annabel