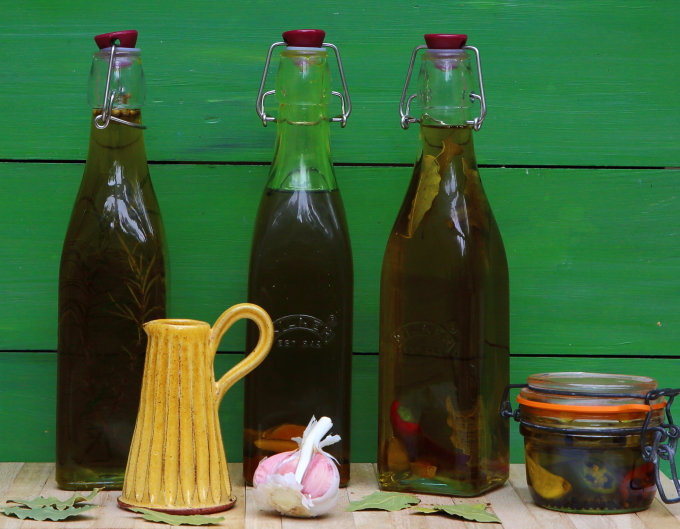 Which oils do you keep in your kitchen? Do you fry with olive oil? What's the controversy around coconut oil? What about ghee? At our Guardian Masterclass on Tuesday night there were lots of questions about which oils and fats we use, and their age-well properties.
We've made no secret of our love of olive oil, the 'liquid gold' of the Mediterranean diet. It appears to provide numerous benefits, with cardio-vascular health at the top of the list. A major clinical trial involving 7000 older adults at risk of heart disease found that those eating an olive-oil-rich Mediterranean-style diet had 30% fewer instances of heart attacks, strokes, memory loss and breast cancer during the four-and-a-half year trial. Participants also saw improved cholesterol levels and blood pressure. Further research has shown that extra virgin olive oil may protect memory by triggering a process called autophagy. This is the brain's 'Spring cleaning' process, which breaks downs and clears out dead cells and toxins, including the amyloid plaques believed to cause some of the memory problems of Alzheimer's.
But how do we use this 'liquid gold'? Mainly as a salad dressing or to drizzle over cooked vegetables. The combination of the oil's unsaturated fats with the nitrates in salad and green vegetables has been found to reduce high blood pressure (hypertension). We also roast vegetables in olive oil with a little seasoning. Plates of roasted sweet potato, squash, peppers and many other vegetables are staples on our tables. Try our recipe for harissa-roasted vegetable salad with yogurt-tahini underdressing.
Research has shown that oils degrade at high temperature, creating trans fats, which raise the level of 'bad' cholesterol in the blood. It's long been thought that extra-virgin olive oil (EVOO) was not suitable for frying, for this reason. But detailed research undertaken in Australia last year found this not to be the case. In fact, EVOO remains stable at the temperatures we cook at in our kitchens. The researchers heated a wide variety of oils to 180C for six hours, and 220C for 20 minutes. In both cases, EVOO produced very low levels of trans fats compared to other oils such as grapeseed, sunflower and rapeseed (canola) oil. And the anti-oxidants and polyphenols of EVOO aren't destroyed by the heat.
Oils start to degrade and 'smoke' when they get too hot. You know that moment when you've left the pan on the hob for too long and are suddenly faced with a billowing, foul-smelling blue smoke that seems to linger for hours? That's the moment that an oil hits its smoke point. Next time that happens, throw the oil away and start again. Every type of oil has a different smoke point. Light olive oil has a higher smoke point than EVOO if you're looking to fry or sauté at higher temperatures.
I keep light olive oil in my kitchen for this reason if I want to quickly sauté something. For a stir fry, I'll use a mixture of light olive oil and toasted sesame oil  (which also has a high smoke point). And I'll use the traditional Chinese method of adding a little water as I fry, so that the temperature (and quantity) of oil stays lower. There's a more detailed explanation here. We tend not to use other seed oils as they are heavily processed.
Coconut oil….sigh…..When we started our Age-Well Project five years ago, I thought coconut oil was the holy grail and bitterly regretted not knowing about its powers when my mum was in the early stages of dementia. You can read about my early enthusiasm here.
Since then, the various limitations of Dr Newport's work, including the small scale of her studies, have become apparent. And the American Heart Association has described coconut oil as 'poison' due to its high saturated fat content. (The saturated fat content of coconut oil is over 80%, compared to butter at 63% and beef fat at 50%). But…but.. but….other research suggests that the mix of fats in coconut oil raise good cholesterol and the medium-chain triglycerides it contains benefit brain health. Further research found coconut oil was effective in preventing bone loss in post-menopausal rats. And trials are currently underway to evaluate if coconut oil can slow the progress of mild cognitive decline. I use coconut oil to fry pancakes, and for curries. But I don't have high blood pressure or an issue with saturated fat. If I did, I would think differently. The same goes for ghee.
And, it would be dishonest of me not to mention that, from time to time, we do love a little butter! Few foods match it for richness, and what chefs call 'mouth feel'.
This week's recipe is barely a recipe, but adds variety to olive oil, especially as we head into salad season. Adding turmeric, ginger and black pepper to EVOO enhances its antioxidant and anti-inflammatory properties. Chilli, garlic and herbs such as bay and rosemary are further health boosters. In the picture you can see – from left to right – rosemary; ginger, turmeric and black pepper; chilli garlic and bay.
FLAVOURED OLIVE OIL (makes 500ml)
500ml extra virgin olive oil
Flavourings of your choice: turmeric, ginger, garlic, chilli, bay leaves, rosemary, cumin seeds, coriander seeds (though not all at once)
Put the oil and your chosen flavours – pick two or three at most – in a saucepan and heat very gently for 10 minutes. Don't let the oil bubble. Leave to cool and infuse, then pour into sealable bottles.
A few of our favourite 'fat' recipes from the blog:
Coconut oil:
DARK CHOCOLATE AND SALTED PEANUT FLAPJACKS (GRANOLA BARS)
Olive oil:
PEAS & BEANS WITH LEMON & PINK PEPPERCORNS
Butter:
CHOCOLATE, CHESTNUT AND ORANGE CAKE
BRAIN-BOOSTING VERY DARK CHOCOLATE BISCUITS
Susan