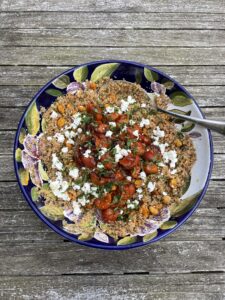 Hello, from me. I'm back from an extended summer break and embracing, as always, la rentrée and the invigoration it brings. There's lots to catch you up on in the world of Alzheimer's research and dementia risk reduction. This is always my particular field of interest – so without further ado……
Many people have asked me about headlines this summer on both treatments to slow the progression of Alzheimer's and new ways to detect it. There is, as we know, no treatment or cure for Alzheimer's and related dementias yet. But there has been progress in recent months. In July, pharmaceutical company, Eli Lilly, released results of the latest trial of a medication called Donanemab, showing that it slows cognitive decline by 35% compared to a placebo. Over an 18-month trial, it reduced levels of amyloid plaque, the sticky protein found in the Alzheimer's brain. This removal of toxic amyloid correlated with slowing of the disease and its symptoms.
Donanemab is the third 'mab' treatment to hit the headlines in the last couple of years, the other two being Aducanumab and Lecanemab. The 'mab' suffix refers to 'monoclonal antibodies', which work by stimulating a response from the immune system – much in the way a vaccine works.
BETTER DIAGNOSIS FOR ALZHEIMER'S
But – and this is important – these results only held true in those with mild cognitive decline or in the early stages of Alzheimer's. And, often, it's hard to get a diagnosis at this stage. But there's progress here too, with new studies pointing the way to quicker, and earlier, diagnosis. Finger prick blood tests to detect levels of amyloid beta and tau are one route to go. A study published this summer showing that blood tests can be up to 85% accurate in detecting Alzheimer's, compared to around 55% using more conventional methods.
Another new way of diagnosing neurodegenerative diseases unveiled this summer tracks misfolded proteins –  harmful substances within cells linked to conditions like Alzheimer's and Parkinson's. Annabel's written extensively about misfolded proteins, here and here, comparing them to a messy laundry cupboard that needs a good sort out! Now Swiss researchers have found a way to identify these misfolded proteins early, by 'mapping' the cells, so hopefully early diagnosis is getting closer.
It will be a while before any of these innovations are available at our doctor's or local hospital. In the meantime, we need to stay focussed on prevention. In an ideal world we'd avoid the need for diagnostics and treatment, although there are no guarantees we can swerve dementia, however healthy our lifestyle.
THE MIND DIET
There's been more research published this summer about the MIND diet – the wonderfully appropriate acronym for the mash-up of the Mediterranean and DASH (Dietary Approaches to Stop Hypertension) diets. MIND stands for Mediterranean Dash Diet Intervention for Neurodegenerative Delay – something we all strive for.
What I like about the MIND diet is its simplicity – it focusses on nine food groups – vegetables, berries, leafy greens, nuts, fish and seafood, poultry, legumes, whole grains and olive oil. There are also limits on five – fried food, pastries and sweets, butter, cheese, and red meat. Of course, there are nuances here. Annabel and I have written about our love of a little good quality butter and cheese plenty of times. But the broad brushstrokes are good.
The original MIND diet trial, back in 2015, found that participants who followed the guidelines most closely reduced their risk of Alzheimer's by over 50% after four and a half years (not a long time when it comes to neurodegenerative diseases, admittedly). The new trial, published in the New England Journal of Medicine last month,  tested the MIND diet against a control group who reduced the number of calories they consumed by 250 per day. All the participants were at increased risk of dementia – they were mainly women, overweight, with an average age of 70 and at least one relative with dementia.
The headline finding from the trial was that BOTH groups lost weight, reduced blood pressure and improved global cognition scores over three years. But the MIND group's cognition scores started to improve more rapidly after two years – they also increased white and grey matter volume and decreased the number of tiny lesions in white matter linked to cognitive decline. A reminder that good brain health isn't a quick fix: it's time and consistency that provide results. And previous research has linked the MIND diet to reduced levels of amyloid plaques – exactly what drugs like Donanemab are trying to achieve.
LIVE TO 100 – SECRETS OF THE BLUE ZONES
Have you seen Netflix's new documentary series, Live to 100: Secrets of the Blue Zones? It's presented by National Geographic researcher Dan Buettner, who created the concept of Blue Zones based on his study of centenarians around the world. He gives a deep dive into what we can learn from the world's longest-lived people. He starts with the premise that most of us, whatever our current health status, 'are leaving good years on the table' by focussing on the wrong things. Rather than relying on medical interventions, expensive diet plans and supplements, he says, we need to learn how to live. It's worth a watch. If you've seen the series, let us know what you think in the comments below.
HODMEDODS DISCOUNT CODE
A simple, natural diet is a key component of Blue Zone living, with an emphasis on whole grains and beans. We love grains and beans, of course, and have shared many recipes featuring these longevity-enhancing ingredients. There's a new one below and I've listed a few other favourites at end of this post. We also love products which are sustainable and local. So we were thrilled when the lovely people at Hodmedods offered us a discount code to pass onto you. The link to their website is here, just click through and use the code AGEWELL10 for 10% off all Hodmedod own brand products before the end of September 2023.
RECIPE – SMOKED QUINOA WITH ROASTED CHERRY TOMATOES AND CARLIN PEAS – serves 4
Smoked quinoa is my new obsession – it's so good! I've lent into the smoky flavour with paprika and cumin in this recipe. This would be a good salad for a late summer BBQ, or serve as a main course with something green on the side.
For the peas:
1 tin Hodmedods carlin peas, rinsed and drained
1 tbs olive oil
1 tsp ground cumin
1 tsp sweet smoked paprika
For the tomatoes:
400g cherry tomatoes
2 large sprigs of thyme
4 cloves of garlic, unpeeled
1 tbs olive oil
For the quinoa
150g Hodmedods smoked quinoa
2 tbs fresh mint leaves, chopped
2 tbs olive oil
juice of half a lemon
1 tsp sweet smoked paprika
1 tsp ground cumin
50g feta, or more if you like
Pre-heat the oven to 180C. Tip the peas into a roasting dish and mix with the oil, cumin and paprika. Season well and pop into the oven to roast for 25-30 minutes. You want them looking a bit brown and crispy.
Put the tomatoes into another roasting dish with the thyme, garlic cloves and olive oil. Season and put in the oven for 20 minutes, until the tomatoes are collapsing and the garlic is soft.
Boil the quinoa in a large pan of salted water until the grains start to unfurl and float to the top – about 10 minutes. Drain and cool. Mix together the lemon juice, olive oil, spices and season with salt and pepper. Squeeze the garlic from the cloves roasted with the beans (watch your fingers – they'll be hot!)  and mash into the dressing. Pour the dressing over the quinoa and mix well. Stir through the mint and cooked peas. Top with roasted tomatoes and feta.
Some other favourite grain and beans dishes:
Farro, watercress and mushroom salad
Susan