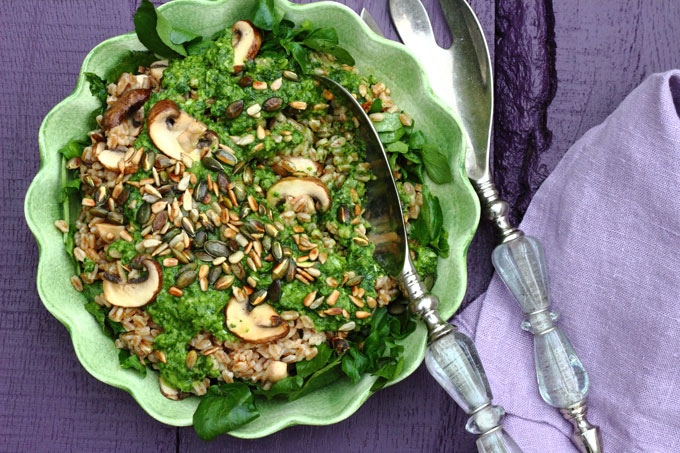 Slaves to our genes?  Not any more!   A few months' ago, world-renowned geneticist, Dr Sharon Moalem, published a ground-breaking book.  Inheritance: How Our Genes Change Our Lives And How Our Lives Change Our Genes reinforces much of what we believe, here at Kale and Cocoa, namely that taking control of your diet can change your life.  Those of us blaming great granny for our dodgy genes (ie a proclivity for inflammatory disease in my case) can now take heart that all our dietary efforts may not be in vain.
Doctor Moalem uses the example of the Queen Honey Bee to make his point.  The Queen Bee of a hive has exactly the same DNA as her female bee siblings but a diet of royal jelly changes her genetic expression entirely, giving her a longer body and legs, a reusable sting, longevity and the ability to lay thousands of eggs a day.  Only bees bathed in royal jelly can do this – and yet all start out with the same genes. Not until 2011, when the genome for the western honey bee had been sequenced and specific details of differentiation worked out, did scientists finally understand how and why this happened.
Clearly, we're humans not bees, but Moalem goes on to cite research from Oregon State University that found something similar happening in humans who ate lots of spinach.  Spinach is rich in a chemical compound called Betaine.  In the human body, Betaine is able to leave a mark on one's genetic code.  Oregon University found that the cells of spinach-eaters were better able to fight back against genetic mutations caused by carcinogens in cooked meat. A 2012 study endorsed this by finding that spinach-eating laboratory animals had half the incidence of colon tumours.  In other words, spinach can instruct the cells in our bodies to behave differently – just as royal jelly does for the queen bee
According to Moalem, not only can we influence our own genes, but we also have the capacity to change the genes of our offspring.  Researchers at Dukes University found that by changing the diet of pregnant agouti mice to include choline, B12 and folic acid (starting just before conception) they could significantly change the appearance of the offspring as well as reducing their susceptibility to cancer and diabetes.  As Moalem says, "Same DNA. Completely different creature… it's not only what our genes give us that's important, but also what we give to our genes."  Meaning that what my great grandmother had for breakfast every day has, in some way, informed my genes … a sobering thought.
So what does this all actually mean?  And what does Moalem think we should do to harness these extraordinary findings? Genetics is still in its infancy and Moalem is clearly an enthusiast (good thing too!) but he's suggesting that how we choose to live (exercise, diet, emotional wellbeing) can not only counter any genetic proclivities we may have but prevent them from being passed on to the next generation. Moalem suggests that we put together medical family trees to try and get a sense of any genetic weaknesses and, if bold enough, get our own genome sequenced.  And herein lies the problem.  While the cost of this has fallen dramatically, the medical industry is not yet able or trained to show us how to fully use the information. You can read an interesting account of what happened when a Guardian journalist got her genome sequenced last year at http://www.theguardian.com/science/2013/jun/08/genome-sequenced
At a basic level, if my sequencing found a propensity for osteoporosis, for example, I'd find the time to lift some weights (I've been putting off strength building – not enough time and too boring!).
In the meantime, here's an amended version of a grain-based salad from Dunja Gullin's just-published The Vegan Pantry.  It's easy, inexpensive and delicious (not to mention gene-enhancing).  In my experience (as a long-lapsed vegan), vegan cook books contain (of necessity!) particularly innovative and imaginative recipes.  And, yes, this one can include spinach but works just as well with watercress alone.
If you want extra protein, you could serve this with some feta cheese sprinkled over or (dare I say it) a lamb chop on the side – sorry Dunja!
FARRO, WATERCRESS AND MUSHROOM SALAD
Serves 2
1 cup farro
200g chestnut mushrooms, sliced
3 tbsp tamari
Lemon juice
1 tsp sesame oil
Bunch watercress
2 spring onions
½ tsp sea salt
2 tbsp olive oil
Toasted pumpkin and sunflower seeds
Handful of extra watercress and/or baby spinach leaves
Boil the farro in 2 cups of water for 20 minutes, then leave to cool.
Mix the mushrooms with the tamari, 1 tsp lemon juice and 1 tsp sesame oil and cook for 3-4 minutes until just soft.
Blend the watercress, sea salt, olive oil, spring onions and 2 tbsp lemon juice.
Arrange the extra watercress and/or baby spinach leaves in a bowl, add the cooled farro, top with the mushrooms and drizzle over the watercress vinaigrette. Finally sprinkle over the pumpkin seeds – and imagine your genes mutating into better and healthier genes…
Annabel