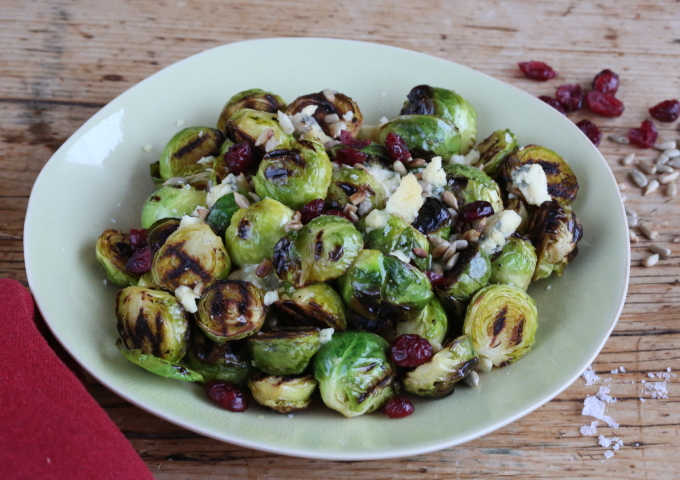 With Christmas only two weeks away and the party season in full swing, health may not be top of your mind. But we have good news today. Read on to find out why champagne may help fend off dementia and how fibre may be a more effective tool for weight loss than dieting…. And a canape/side recipe that is as simple and delicious as it is good for you.  Hurray!
We're all familiar with the benefits of a high fibre diet: protection against cancer; a healthy heart; protection against diabetes; improved digestive health.  But a new report suggests that fibre can help with weight loss too. No need to diet, or count calories, or drink those horrible weight-watcher concoctions. Just ensure you're getting 30g of fibre a day.  This is twice what the average American consumes.  The average Brit is not much better with a daily consumption of 18g.
A study commissioned by the National Fibre Council (yup, probably biased in favour of fibre but hear me out) investigated 240 overweight people, putting half on a strict diet.  The other half, however, were allowed to eat exactly what they wanted so long as they consumed 30g of fibre every day.
Over a year, those on the highly restricted diet lost 6 pounds while those who simply ate more fibre lost 4.6 pounds. Admittedly that's less, but the researchers speculated that a high-fibre diet would be more sustainable in the long run as it's much easier to follow.  Why does fibre help weight loss?  Fibre makes you feel fuller more quickly, it decreases the absorption of calories and it increases the amount of fat excreted naturally by the body.
So rather than binge-eat over Christmas and then put your body through a radical detox (something we'd never advocate), why not just top up your fibre? Great sources of fibre include nuts, seeds and beans, followed by fruit – fresh and dried – and veg and wholegrains.  Our chia seed pudding would make a fabulous Christmas breakfast – a mere two tablespoons of chia seeds provides 20g of fibre. I've been giving it to my children for breakfast, topped with some granola and a coulis made by blending a banana with 2 handfuls of frozen raspberries. My thirteen-year old describes this as 'the best breakfast ever.'
When it comes to drinking over Christmas, the news is even better. According to a recent report three glasses of champagne a week could protect us from brain disorders like Alzheimer's and dementia.  Jeremy Spencer, a biochemistry professor at Reading University and author of the report said, 'Dementia probably starts in our 40s and goes on to our 80s. It's a gradual decline and so the earlier people take these beneficial compounds in champagne, the better.' Wowza!  We like this one… So what are these beneficial compounds? The Prof cites phenolic acid, found in the black grapes, Pinot Noir and Pinot Meunier, both of which are used for champagne.
One word of warning – his research was conducted on rats not people. In just six weeks rats that regularly consumed champagne showed a 200% increase in the proteins that determine effective memory. But the good news is that Professor Spencer's planning a second study involving 60 lucky pensioners who'll be asked to drink champagne for three years. So watch this space…
There's one other thing you need to do on Christmas day – take a walk.  Yet another study has linked dementia with inactivity, although in this case the link is specifically with the strength of ones legs.  Strong legs equal a reduced dementia risk. Apparently one brisk walk a day is all that's needed to keep dementia at bay. Read more at http://www.express.co.uk/news/uk/618247/Walking-daily-boost-fight-beat-dementia?_ga=1.145521847.2011112844.1443606843
Dementia is now, officially, the leading cause of death among women. So tuck into a glass of champagne, get some fibre into your Christmas menu then take a walk.   Oh – and swap the high-fat canapes and crisps for a bowl of high-fibre griddled Brussel sprouts.  These are my family's favourite way of eating Brussel sprouts.  I regularly make a batch of these and they're invariably gone before I get the rest of the meal on the table. Which is why I'm suggesting serving them as a canape either speared on cocktail sticks or with napkins or cocktail sticks on the side.  Of course, you could just serve them the usual way – alongside the turkey.  Either way I think you'll agree this is the tastiest way to eat a sprout!
Brussel sprouts are in the top twenty of the world's most nutrient-dense foods – rich in vitamin C and K, high in protein and chock full of cancer-fighting sulforaphane. Take my word for it or read more at http://www.medicalnewstoday.com/articles/284765.php
GRIDDLED BRUSSEL SPROUTS WITH PARMESAN
Brussel sprouts (allow 4-5 per person)
Olive oil
Either Parmesan, grated, or crumbled blue cheese (as in the picture)
Optional – Handful of dried cranberries
Optional – Handful of toasted sunflower seeds
Trim and halve each sprout.  Put in a bowl with a few glugs of olive oil and some seasoning. Toss the sprouts to ensure they all have a thin coating of oil.
When your ridged griddle's at smoking point (mine takes about 15 minutes to get to this stage), tip the sprouts onto the griddle.  Once they've nicely scored (about 10 minutes on my griddle), turn them over using a pair of kitchen tongs.  When both sides are scored (but not burnt), tip them into a bowl and grate over a good handful of parmesan if you're serving as canapes. If you're serving them as a side dish use either parmesan or blue cheese and scatter over the cranberries and toasted sunflower seeds (optional but nicely festive and both will add fibre and extra nutrients).
That's it!
Annabel