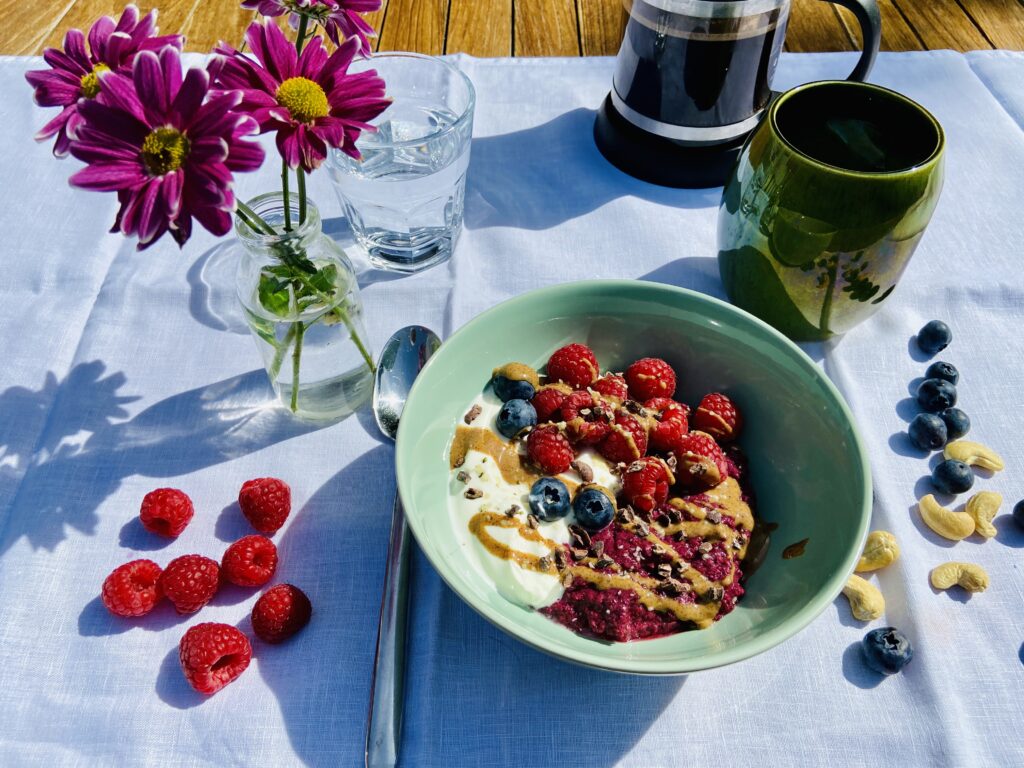 If you look at our Instagram or Facebook feed, you'll realise I'm very excited by the start of berry season! I love English berries and am thrilled when they arrive in the shops. Their blazing colour, sweet perfume and promise of summer never fail to make me happy. And this Summer, in particular, we're being urged to eat the mountain of strawberries grown for Ascot, Wimbledon and many other seasonal events which have fallen victim to lockdown. Extra berries are good news for our health, though.
Berries of all types are rich sources of flavonoids, a diverse group of phytonutrients (plant chemicals) found in almost all fruits and vegetables. The beautiful jewel-colours of berries owe their pigmentation to these compounds. Other Age-Well favourites, like red wine, green tea and chocolate are also good sources of flavonoids. Read Annabel's last blog post on red wine to understand its brain benefits.
Flavonoids play a role in signalling between our cells and appear to reduce inflammation. Two in particular, anthocyanidins and flavan-3-ols, benefit our cardiovascular and metabolic health, reducing the risk of heart disease and type-2 diabetes. Anthocyanidins are found in red, blue, and purple berries; red and purple grapes (and therefore also red wine); flavan-3-ols are found in berries, apples, chocolate, tea (green and black) and red wine.
BERRIES AND YOUR BRAIN
Research published last month revealed that people over 50 who consume very few flavonoids are more likely to develop dementia over a 20-year period than those who consume more. The research, published in the American Journal of Clinical Nutrition, found that low intake of anthocyanins in particular was associated with a four-fold increase in dementia risk. We don't need to eat buckets of berries to tip the balance, however. High intake of flavonoids was equal to roughly 7.5 cups of blueberries or strawberries a month, or 8 apples or 19 cups of tea.
'When we look at the study results, we see that the people who may benefit the most from consuming more flavonoids are people at the lowest levels of intake, and it doesn't take much to improve levels. A cup of tea a day or some berries two or three times a week would be adequate,' said the study's first author. The authors added, that 50, the approximate age at which data was first analysed for participants, is a good age to start making dietary changes. 'The risk of dementia really starts to increase over age 70, and the take home message is, when you are approaching 50 or just beyond, you should start thinking about a healthier diet if you haven't already.'
HOW BERRIES HELP BEAT VIRUSES
Another crucial reason to keep our flavonoid intake high right now is that they help our microbiome prime the immune system against viruses. When gut bacteria called Clostridium orbiscindens break down flavonoids, they produce desaminotyrosine (DAT). DAT helps the body produce signalling molecules which activate the immune system. Research published in 2017 found that mice given DAT for seven days, and then infected with the flu virus, had a much stronger immune response and were less likely to die, than those who weren't primed with DAT prior to infection. Something worth thinking about at a time when we have viruses on our minds….
WANT TO AGE WELL? JOIN MY ONLINE AGE-WELL EVENT WITH POSITIVE PAUSE
If you're looking for more practical advice on how to age well and live a longer, healthier, happier life, join me for an online event with Positive Pause on Tuesday June 9th at 7pm. I'll be discussing my six rules for ageing well, the small changes which make a huge difference as we age and improving our immunity during lockdown.
Tickets are available via the link below and there'll lots of opportunities to ask questions during the event and in the private Facebook group afterwards. I'm looking forward to seeing you there (virtually, of course!)
https://www.eventbrite.co.uk/e/ageing-well-how-to-live-longer-healthier-happier-in-midlife-menopause-tickets-105511403448
BERRY CASHEW CHIA BREAKFAST BOWL serves 6
This recipe is a fantastically simple way of consuming more berries. It does need a little planning ahead though, to soak the nuts and then the chia seeds to get a lovely pudding-y texture. I whizz this up the evening before I want to eat it so the chia seeds can swell overnight. I used frozen 'fruits of the forest'-type berries as they're cheap and easy to get hold of. They blend well too. The orange juice is, of course, a good source of vitamin C, another potent immune booster, but do use water or milk if you don't have any to hand.
400g fresh or frozen berries
300ml orange juice, water or milk
80g raw cashews (almonds would also work)
1-2 tbs maple syrup (optional)
2 tsp vanilla extract
2 tsp ground cinnamon
6 tbs chia seeds
Toppings of your choice – more berries, yoghurt, kefir, granola, cacao nibs, bee pollen, banana
Soak the nuts in warm water for around two hours and defrost the berries if you're using frozen ones. Drain the nuts and whizz in a high-speed blender or food processor with the berries, liquid, vanilla and cinnamon. Taste the mixture and see if you'd like to add a little maple syrup. Pour into a bowl and stir in the chia seeds. Mix really well to make sure there aren't any clumps of chia hanging around. Leave to stand in a cool place for a couple of hours, or in the fridge overnight. Dollop a portion into a bowl and add toppings of your choice.
There are lots of other berry-tastic recipes on the blog. Try:
Venison with blackberry and apple sauce 
Susan