As the weather warms up, I normally switch to drinking white or rose wine.  But not this year.  Why not?  Because a few years ago, Professor Roger Corder, a cardiovascular expert and professor of experimental therapeutics at the William Harvey Research Institute (part of Barts and the London School of Medicine) published his discoveries on red wine.  After extensive research he found that drinking wine high in procyanidins improved the function of the linings of blood vessels, protecting against the danger of heart disease, strokes, diabetes, dementia and possibly some cancers. He identified traditionally-produced and very tannic local wines, particularly Madiran from Gascony in France, as having the highest procyanidin content of any wines in the world.
Sadly few of these wines reach our shores as the big retailers prefer to stock the smoother, easy-drinking reds that we've become accustomed to. Such wines tend to contain virtually no procyanidins.
When Madiran wines do reach our shores they tend to be more expensive, averaging £12 per bottle (£5 per bottle is the typical British spend according to a survey last month). The great news is that if you keep an eye out, you can sometimes find Madiran on offer.  And the really great news is that Tesco has a great, award-winning  Madiran called Reserve des Tuguets , currently half price.  After sampling a couple of bottles, and to Husband's great satisfaction, I've just stocked up on this gutsy, pro-ageing wine – and that's why I won't be switching to white this summer… Incidentally, and in the name of research, I've been drinking this wine lightly chilled (20 minutes in the fridge).  Purists may scoff but my neighbour, a well-known wine writer on a well-known national newspaper, recommends a brief chill for most reds.  But back to the facts….
You can read a summary of Professor Corder's research, in his own words, at  http://www.telegraph.co.uk/health/expathealth/4202211/Drink-wine-eat-well-live-longer.-Really.html or buy his book The Wine Diet at Amazon or your local book shop.
Professor Corder also rates cranberries, very dark chocolate, walnuts and pomegranates as good sources of procyanidin.  We'll be covering all these ingredients in future posts.  So stick with us…
RECIPE
Squid and Peas with Chorizo, Shrimps and Red Wine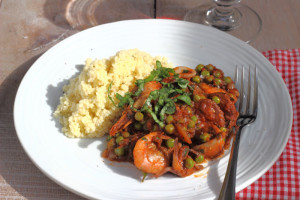 This recipe is adapted from Sarah Raven's Garden Cook Book.  It's a hot dish but feels oh-so-summery … perhaps because it tastes of Spain and holidays.  It takes twenty minutes to make – and all my family (young and old) love it.  Obviously you can use any red wine, and you can replace the chorizo with extra squid and a dessertspoonful of paprika if you prefer.  Serve it with rice or quinoa or just crusty bread.
250g best quality chorizo, sliced into coins
400 g squid, cut into rings
300g peas  or petit pois (frozen are perfect)
2 onions
100 ml Madiran wine – or any red wine
3 tsp olive oil
680g passata
150g shell-on shrimps or small prawns
1 bunch of parsley, chopped
Slice and fry the onion and chorizo in the olive oil for 4-5 minutes.  Add the passata, red wine and peas and bring to the boil.  Add the squid and simmer for 20 minutes.  Add the shrimps and cook for a further five minutes.  Season, sprinkle with the chopped parsley and serve.
How easy is that?
Annabel