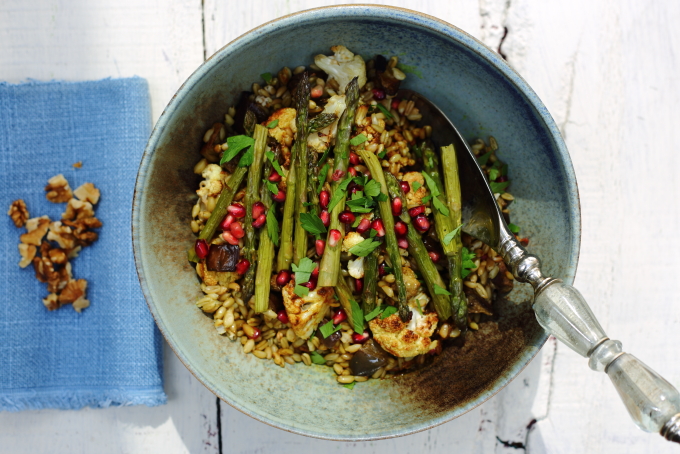 Debate rages at Kale & Cocoa about supplements – shouldn't we get all our nutritional needs from a good diet? What to take – and how much? I am broadly pro-supplementation, Annabel less so. I've made a CoQ10 supplement part of my 'age well' routine and Annabel asked me why.
Co-enzyme Q10 isn't a vitamin, it's an antioxidant. It's been claimed that CoQ10 helps the body do pretty much everything: raise energy levels, fight heart disease, lower blood pressure, reduce gum disease and – possibly – slow the progress of dementia. Not to mention strengthening the skin and keeping wrinkles at bay. If there's a pill for all that, I want to be taking it!
CoQ10 is generated in the liver through a complex, multi-step process and is found is almost every cell in the body, helping them produce energy. It also fires up our telomeres – helping them do their job of protecting our chromosomes. We're pretty efficient at making it ourselves until the grand old age of about, er, 20. After that our capacity declines and doctors believe that most women are deficient by their 30s. Which is where supplements come in.
Cells lacking CoQ10 are less efficient and when cells aren't working efficiently the problems start. So, in recent years, CoQ10 supplementation has been tested for its impact on everything from heart disease to migraines. It seems that many of the claims made for this panacea are not yet proven. More research is needed into links between CoQ10 and many diseases, including cancer, cataracts and Alzheimer's. What is becoming clear is the link between this anti-oxidant and reducing the risk of heart failure.
A 2013 study from researchers at the University of Southern Denmark randomly allocated 420 patients with severe heart failure to CoQ10 or placebo. CoQ10 halved the risk of patients going on to die or further deteriorate.
The recommended daily dose seems to vary wildly – from 30mg a day to 200mg. I've seen 100mg a day described as the 'premium option' for the over 50s and higher doses for specific conditions. CoQ10 is fat soluble, so it should be taken with a meal containing fat so your body can absorb it.
I take 45mg a day in a combined supplement and that seemed reasonable to me – I don't have heart disease and I didn't question the amount I was taking. What I've discovered, however, researching this post is that as we age we lose our ability to process CoQ10 within the body and extract the active part, Ubiquinol. Supplements of 'body ready' Ubiquinol are available, but aren't cheap.  But, in the name of research, I'm going to take the plunge and add them to my daily supplements – watch this space!
CoQ10 can be obtained from food, but even the richest sources contain only moderate amounts. If you were to eat nothing but these, you'd still be struggling to get 100mg a day – and as the richest natural source on the planet is reindeer meat (15.8mg per 110g) you'd also have to be living in Lapland. Other, more readily available sources include Kale & Cocoa favourites chicken livers, mackerel, avocado and whole grains such as barley and wheat.
SPICY SPELT SALAD WITH ROASTED ASPARAGUS serves 4
100g spelt – I used green spelt for a change – or 400g cooked spelt
1 aubergine
1 small cauliflower or large courgette
50g walnuts, crumbled
handful of flat leaf parsley or other soft herbs, roughly chopped
2 tbs pomegranate seeds
1 bunch of asparagus, woody ends trimmed
olive oil
FOR THE DRESSING:
4 olive oil
1 tbs pomegranate molasses
1 tbs apple cider vinegar
½ tsp salt
1 tsp ground cumin
½ tsp ground cinnamon
½ tsp ground turmeric
½ tsp ground cardamom (optional)
good grating of nutmeg (optional)
Pre-heat the oven to 200C.
Mix all the dressing ingredients together in a jar and give them a good shake, or whisk in a bowl. Put to one side.
Cube the aubergine and courgette (if using), or cut the cauliflower into florets. Toss in a bowl with 1 tbs olive oil and season well. Roast in the hot oven for 20mins. Trim the woody ends of the asparagus and then toss that in the same bowl with a splash more oil and lots of salt and pepper. Crumble the walnuts and put in a small roasting tray. Throw the asparagus in with the other veg, and put the walnuts in the oven too. Cook everything for another 10 minutes.
Prepare the spelt according to packet instructions. Stir through the roasted cauliflower/courgette/aubergine, chopped herbs and pomegranate seeds, then add some dressing. Top with the roasted asparagus, pomegranate seeds and crumbled walnuts. Drizzle over a little more dressing and serve warm or at room temperature.
Susan