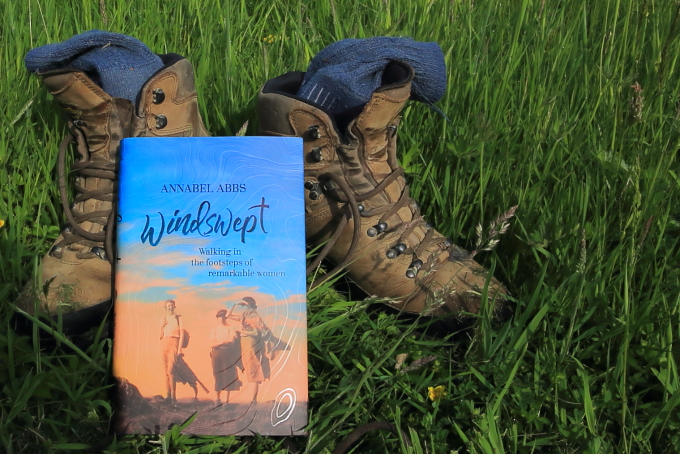 It's a week to the publication of my new book on walking in nature. To celebrate, my next few posts will be on some of the astonishing (and often little-known) benefits of walking.  We hope you'll also join our free book launch webinar – details below.
May and June are our favourite months for moving outdoors, whatever the weather and however we choose to move.   I'm focussing on walking as that was the preferred movement of the women in my book, Windswept: Walking in the Footsteps of Remarkable Women.
Recent research shows that walking (particularly in nature) enriches our lives – emotionally, mentally, physiologically. When we move, our bodies produce hundreds of chemicals affecting all of our organs, our microbiome, our brain, and – as a result – our mood. Over the coming weeks I'll share a few of the discoveries I made while researching women walkers of the past. Like the inspirational Georgia O'Keeffe, who was 98 when she died but who walked daily until the very end, using a technique of her own devising.
Our Age-Well Windswept webinar will be at 6pm on Sunday 20th June. We're giving away a signed hardback copy of Windswept, so sign up if you want your name included for the draw.
Two walking discoveries have excited me recently.  The first features a hormone called MSH, melanocyte stimulating hormone. MSH is actually a family of hormones produced by the pituitary gland.  It's a complicated topic but all you need to know is that a good supply of MSH stops us feeling hungry. Studies show that people without sufficient MSH, and mice in which these hormones have been removed, become obese.
What has this got to do with walking? Well, according to my current favourite neuroscientist, Professor Andrew Huberman, MSH is activated by ultraviolet light falling on the cells at the backs of our eyes.  He explains  that by walking first thing in the morning we do more than set our circadian rhythms.  We also reduce undue hunger for the rest of the day. Getting abundant sunlight to our eyes is the reason our appetites are smaller during the summer.
Susan and I have long been devotees of early morning light – mainly to set our internal clocks so that we sleep better at night.  We also like the serotonin boost to our mood and the vitamin D that comes from sunlight, which we wrote about here. Walking first thing also ensures we get oxygen circulating to our brains in readiness for a day's work. Hence our mantra: Walk within an hour of waking up!
And now we have another reason for walking early: light triggers MSH which helps regulate our appetite by inhibiting excessive hunger, thereby curbing hunger pangs for the rest of the day.  Which is not to say we won't feel hungry at mealtimes.  Huberman explains that by sticking to regular meal times we programme our appetites to leap into action at those set times.  But an early-morning boost of MSH dulls our hunger outside of mealtimes, making us less likely to snack and graze. And making us more inclined to eat only what our bodies need, rather than eating all that our bodies want.
Like us, Huberman is an advocate of getting outside within an hour of waking.  To get the full effects of sunlight we should leave our sunglasses at home (unless your eye doctor says otherwise).  Huberman is adamant that light must fall on those miraculous cells lining the backs of our eyes.
And my second discovery?  An intriguing study that brings together two of our favourite subjects: movement and purpose. Both exercise and being in possession of a strong sense of purpose have been repeatedly identified as factors in the happy healthy lives of nonagenarians and centenarians. This study  suggests that the two are inextricably bound up: a life full of movement provides a strong sense of purpose, and/or a strong sense of purpose encourages us to move more.
The study used data from 18,000 mid-life and beyond men and women, and found those who entered mid-life (age 50 ish) with a firm sense of purpose became more physically active as they aged. The reverse was also true: those who were more physically active at 50 showed a growing sense of purpose as they aged.
This didn't mean committing to extreme sports or marathons… having a clear sense of purpose at a point in midlife was linked to the equivalent of taking an extra couple of walks each week much later in life. The report's author, Dr Yemiscigil, speculated that the goal-setting and structured routines that come fr0m having more exercise in your life (like taking a daily morning walk, whatever the weather) help people to make other goals and plans.  She also pointed out that once we have goals and plans, we 'probably want to be healthy and live long enough to fulfil them.'  In which case we are more inclined to keep moving.
Reading this report, I remembered the incredible nonagenarians I interviewed for our first book, all of whom made consistent efforts to keep moving but all of whom also had very clear reasons for wanting to stay healthily and actively alive.  Similarly, the windswept women I researched often found their purpose bound up in their walking. It appears that if we want to achieve something (whatever – and however large or small – it might be) we pay more attention to moving and eating well.  And if we move and eat well, we have the health and energy to make the sort of plans that give our life direction and meaning.
Which comes first? Researchers don't know. But it seems that if we start with one, the other will follow. Engage with life – and we'll want to exercise and move more.  Exercise and move – and we'll have the energy and inclination to engage more enthusiastically with life.
The pandemic has made it particularly challenging but also particularly necessary to hang on to a sense of life-direction, and to keep moving. Please do share any suggestions in the comment box.
LAUNCH WEBINAR: WINDSWEPT, HOW WALKING CHANGES LIVES: 20 JUNE 2021 6.00pm
Please book a ticket here: https://www.eventbrite.com/e/the-age-well-windswept-webinar-tickets-156965061725?aff=ebdssbeac
The webinar will be around 40 minutes, with a chance for questions at the end.  Subjects covered will include:
The extraordinary walking histories of past women (and why we know so little about them);
Why walking is such a powerful tool for our body, brain and mood;
The human brain on nature;
Why the human (and particularly the female) body is built for endurance;
The power of walking alone and how to be safe;
What happens to our brains when we walk with others;
Never get bored: different ways to walk
We look forward to seeing you there! And for those unable to watch live we'll send you a link after the event (you need to sign up to enable us to do this).
Annabel