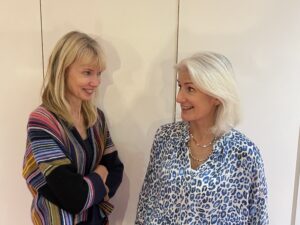 A minor scare about eye health this summer: my optician thought she'd spotted a micro-aneurysm in my right eye. I have eye scans using optomap wide-angle camera imaging every four years because decades of staring at small screens in my TV career, plus long hours on the computer to coach and write now, have not been kind to my eyes. I also have a family history of age-related macular degeneration plus a genetic predisposition to the condition. The micro-aneurysm, while not a problem in itself, had not been apparent when I was last scanned in 2018, so needed to be investigated. My optician's notes read, 'It is important to note that there is a recognised association between retinal vessel changes and subsequent cardiovascular and cerebrovascular morbidity'. Enough to make this Age Well-er quake in her boots.
ADVICE FROM A NEURO-OPTHALMOLOGIST
After a three-month wait I got an appointment at a Moorfields eye hospital outpost in South London. It was all fantastically efficient. I, and many others, were shunted in and out of various treatment rooms where drops were applied, tests were done and results given. The eye drops vastly expanded my irises, meaning everything was simultaneously overly-bright and hazily blurred. This rendered the whole experience mildly hallucinogenic. But I was rewarded with two minutes with a neuro-ophthalmologist who assured me there was no evidence of a micro-aneurysm. He thought my optician had most likely spotted a micro-haemorrhage which had subsequently healed up.
Good news, of course. But what can we do to look after our eyes? It's not every day we get time with a neuro-opthalmologist, so I fired questions at him on your behalf. He advised:
Close your eyes for five minutes at the end of every hour of screen time. That's a lot – I've been trying, and while it's nice to have a break, it does feel like a long time!
Use hydrating eye drops four times a day as screen work leads to evaporation from the eye's surface. I've bought preservative-free ones from Amazon. A.Vogel Eye Drops Extra are my favourite so far.
Don't overthink it. A healthy diet and exercise make a huge difference to eye health, don't get caught up in the minutiae.
EYE HEALTH AND DEMENTIA RISK
The importance of looking after eye health as we age can't be overestimated: this summer a case was made to add vision impairment to the list of modifiable risk factors for dementia. It's estimated that 1.8% of dementia cases can be linked to sight issues. That's not a huge number but with 10 million new cases of dementia each year, and around 90% of vision impairment preventable or treatable, it's a relatively easy fix. And with no effective drug for Alzheimer's on the market, there's more and more emphasis on modifiable risk factors (doctor-speak for 'things we can do something about').
Further evidence in the form of new research linking cataract surgery with reduced dementia risk. Cataracts have a direct effect on the brain, as they reduce visual stimulation and make the patient more isolated – both of which erode cognitive resilience. But after cataract surgery dementia risk returns to normal.
GOOD NUTRITION AND EYE HEALTH
A research review also published this summer looked at carotenoids (antioxidants which give vegetables their colour) and their impact on women's eye and brain health. It found that high intake of the nutrients lutein and zeaxanthin (from leafy greens and yellow vegetables like corn) is linked to lower risk of macular degeneration and cataracts.
We've written before about links between good eye health and nutrition. Annabel posted back in 2015 on the topic – and shared a fabulous freekeh recipe to go with it; I shared more nutrition and lifestyle tips back in 2020. And Annabel would like me to remind you about the importance of 'vista vision' for eye health – she wrote about it here.
FREE INTERVIEW SERIES: UNSHAKEABLE RESILIENT WOMEN
I was thrilled when the wonderful Linda Legras invited me to be part of an interview series specifically for midlife women. The series was born out of her desire to help women in perimenopause, menopause and beyond to confidently take charge of their health and changing bodies. It all kicks off on October 10th.
Over 21 days, you'll meet amazing women who are passionate experts in their fields and who share stories, expertise and resources to help women as they age. My interview – October 21st – is about brain health and ageing well (of course), but there are so many other fascinating topics from pelvic floor health to journaling.
It's all completely free and you can register using this link. 
Susan