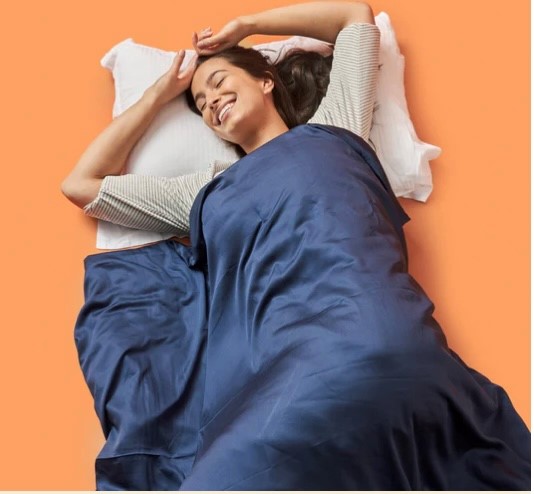 I've had what sleep guru Matthew Walker would call insomnia for about 25 years now: lengthy night awakenings, at least three times a week (there are other types of sleeplessness, but this is mine). In one of his recent podcasts (#30: Insomnia Part 5) he explained that this may be the result of faulty wiring in the brain, where two regions become entangled and 'overly communicative,' as revealed in recent brain scans of insomniacs.
I've tried pretty much everything and I can honestly say there is no miracle cure. However, I get enough sleep most of the time and I'm no longer bothered by my sleepless nights. Instead, I've learned to lean into them (as Sheryl Sandberg would say).
I've also learned that quality of sleep is more important than quantity; that tracking sleep with a tracker is a dangerous way to go (of which more later); that we should stick with our chronotype; and that there are always things worth trying even if they only work for some of the time.  I've also learned to ignore most of the media headlines, to beware of sleep experts who also sell sleep aids, and to take studies carried out in sleep laboratories with a pinch of salt.
At the beginning of the year I invested in a weighted blanket after reading a study of anxious and depressed people who dramatically improved their sleep (and mood) after sleeping under said-same weighted blanket. I'm neither particularly anxious nor depressed, but I rather like my weighted blanket. So why do I like it and does it work?
I like the heaviness and heft of it.  Duvets feel both flimsy and overly hot (to me, at any rate), while my weighted blanket (it weighs around 8kg thanks to its inner lining of glass beads) reminds me of the beds my grandma used to make. You know the ones – hospital corners, piles of blankets, tightly tucked-in sheets and a proper quilt on top. At first I assumed this was why I liked my new blanket – a re-lived sense of childhood security.
Then I wondered if it was an evolutionary thing. For millennia we've slept under heavy eiderdowns, blankets and, before that, animal pelts.  And yesterday a friend suggested it might be the return-to-the-womb feel of being tightly and snugly enclosed. Susan wonders if it's akin to swaddling – which our babies all loved. Whatever, the heft of it feels right.
But last week a study published in the Journal of Sleep Research discovered that something biochemical may well be taking place beneath all that weight.  In other words Grandma was right all along – and we should have listened to her rather than switching to new-fangled duvets (they were new-fangled back in the 70s and 80s).
This study found that people (neither anxious nor depressed) sleeping under a weighted blanket produced much greater quantities of melatonin than when they slept under a light blanket. In the first hour of lying under a weighted blanket, the participants made 32% more melatonin, the hormone that helps us sleep. They didn't sleep for longer but I'm not interested in duration.  As I said, quality is my goal. And I'd guess that additional melatonin means better quality sleep. An earlier study found that weighted blankets (and I'm quoting here) 'resulted in a significantly better sleep-maintenance, a higher daytime activity level, and reduced daytime symptoms of fatigue, depression, and anxiety.' Sounds good to me…
Why would a heavy blanket nudge our pineal gland into making more melatonin? No one knows. And more research is needed. But there are absolutely no side effects to a blanket. So, if you're having problems sleeping, you might want to try one. Do I sleep better?  I think so. I spend less time tossing and turning and I fall back to sleep with greater ease and speed. There are lots of weighted blankets on the market now.  This site might help you work out what to look for in a blanket. They key is to get the right weight for you. My blanket is the 'Airy' from Remy and I notice it's currently on sale/reduced, as is their child's blanket – which might work if you're very petite.  Just be sure to get one with pockets so that the beads don't slump into heavy piles.  And see it as an investment in your own health.
If you're already using a weighted blanket and have noticed any effects, please do share in the comment box.
New studies have also suggested that omega-3s can help with sleep duration. A study published in Sleep Health found that people with low levels of omega 3 (both EPA and DHA) were more likely to have shortened sleep. Researchers think this might be because omega-3s are needed to make melatonin.  So if a weighted blanket doesn't work, try eating more oily fish or an omega-3 supplement. More on this in a forthcoming post.
Meanwhile, I'm still experimenting with supplements and can report mixed results. Magnesium L-Threonate (2 x 600 mg capsules an hour before bed) seems to help, as does melatonin (3-5mg an hour before bed), both of which I take sporadically, particularly on full moon nights when our bodies make less melatonin.  Sometimes a couple of drops of CBD tincture helps and sometimes it doesn't. Some people swear by L-Theanine but that kept me awake all night. Recently I've experimented with Myo-Inositol and found it fairly effective in combination with Magnesium. More on this subject in a future post. But if there's anything you've found effective for sleep, please do share it and I'll add it to my ongoing self-experimenting.
One thing I won't be doing is wearing a sleep tracker.  Why not? Well, a 2021 study found that trackers often don't accurately track deep sleep.  Which is to say the results are often wrong. More to the point, sleep tracking has spawned a new condition of sleep anxiety – called orthosomnia – where we no longer sleep well because we're worried about … sleeping well.  Insomnia has – apparently – reached epic levels.  And with all that's going on in the world this is no surprise. But worrying about our ratio of deep sleep to REM sleep, or whether our slow-wave sleep is good enough, or whether we're getting enough sleep, strikes me as merely another thing to fret about. So, by all means track if you want to. But I won't be joining you.
I will, however, continue to enjoy my weighted blanket and my lavender oil diffuser. When I wake at 3am at least my room will smell of heaven and my blanketed bed will conjure memories of my much-loved grandma.  Throw in an audio book – and that's good enough for me.
I've also written about why we need plenty of daylight to sleep well here and why quality matters more than quantity here and Susan has listed her favourite sleep helpers here. I completely agree with Susan's sleep mask and ear plug suggestions – in cities I can't sleep without them… in fact I've virtually boarded up my windows, making my bedroom more cave than boudoir.
So, in answer to the question in the title (Can we improve our sleep?), yes, we can. But it takes a bit of time, effort and experimentation. And there will be nights when nothing works. But that's ok too – enjoy the peace, quiet and solitude.
For severe, unrelenting insomnia please see your GP. Meanwhile, sleep well!
Annabel