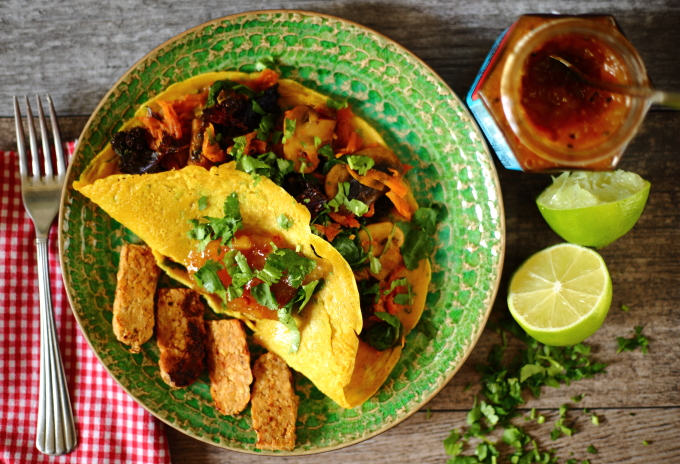 There's no easy way to say this: my mum died a couple of weeks ago after a very long battle with dementia. She was incredibly frail in her final days but soldiered on with fortitude.  She was able to remain at home right to the end, thanks to her wonderful carer.  Which is just how she wanted it – in the house she loved, with the people she loved. But although we knew she was slipping away, her death still came as a tremendous shock.
In the first few days after she died I struggled to eat. There was no shortage of tea though – everyone's first response to bereavement is to put the kettle on. It wasn't just the tea that comforted me – grabbing high energy comfort foods like almond butter and, ahem, dark chocolate helped  hugely as I ran on 10% energy levels during this incredibly busy time –  compounded by going simultaneously  through the emotionally-exhausting process of grieving.
Returning from the role of carer to daughter also felt very strange.  Giving the tribute at her funeral, although extremely hard for me, provided an opportunity to remember my mum before dementia took her and to resurrect her as she once was.  It was also a stark reminder of how cruel dementia is – increasing my determination to do everything I can to prevent my daughters and I getting dementia in the future. If you've read the 'about' section of Kale & Cocoa you'll know this was one of the reasons for starting the blog.
Bereavement is a very, very stressful time for the body. I've spent the last couple of weeks feeling as though I'm about to go down with a cold, as well as sleeping poorly (read Annabel's recent post on sleep here).  Research done a few years ago by Dr Margeret Stroebe at Utrecht University in the Netherlands found significantly higher rates of death and illness among the bereaved – especially in the first six months of bereavement. There's more here: http://www.pubfacts.com/detail/18068517/Health-outcomes-of-bereavement.
The most common physical symptoms of grief, alongside insomnia,  are an inability to concentrate, and memory loss – not unlike the early stages of dementia, ironically.  Headaches are also common, and although I haven't suffered from these, a Parisian colleague's had a constant headache since the terrible events in her home city.
At times like these we need quick, comforting  and nutritious food (there's more on mood food here). I've been making the Anna-Jones-inspired pancake recipe below because it's infinitely adaptable and so simple. The savoury crepes are made with chickpea flour (also called gram flour or garbanzo) which is high in protein (22% as opposed to less than 10% in regular plain flour). I buy it from Asian food stores.  In The Art Of Eating Well the Hemsley sisters suggest adding a couple of tablespoons of live natural yoghurt to chickpea batter to aid digestion.  You might want to try that if your digestion's out-of-sorts.
SAVOURY CREPES WITH TEMPEH AND VEGETABLES (serves 2 generously)
FOR THE CREPES:
125g chickpea flour
½ tsp ground cumin
½ tsp turmeric
½ ginger pulp
1 tbs finely chopped coriander
1 tbs live natural yoghurt, optional
1 tsp coconut oil
FOR THE FILLING:
100g tempeh, thinly sliced
1 tsp coconut oil
150g mushrooms, wiped and sliced
1 carrot, peeled and grated
1 clove of garlic, finely chopped
1 tsp ginger pulp
2 tsp soy or tamari sauce
2 handfuls of leafy greens like spinach or kale, washed
Chilli to taste
Lemon or lime wedges for squeezing, more yoghurt, mango chutney and chopped coriander for serving
Mix the pancake ingredients together with a good pinch of salt, then gradually stir in up to 200ml of cold water (you might need a bit less, don't add it all at once) until you have  a thin batter. Stir in yoghurt if using. Put to one side.
Dry fry the tempeh slices in a hot frying pan, sprinkling over 1 tsp of soy/tamari was they cook. When they are browned on both sides lift out of the pan and put to one side. Melt the coconut oil in the pan and fry the mushrooms, adding a little water if they look dry, then the carrots, garlic, ginger and soy/tamari. Saute everything until cooked , add the greens at the last minute to wilt down, and the tempeh to warm through. Meanwhile, heat a teaspoon of coconut oil in another frying pan and swirl in a couple of ladles full of the batter, so you get a nice thin crepe. Cook on one side then gently turn over. (I haven't risked trying to toss them, Shrove Tuesday style). Put the crepe on a plate, pile the filling on one side then flip over the other. Serve with all the toppings you fancy.
Susan