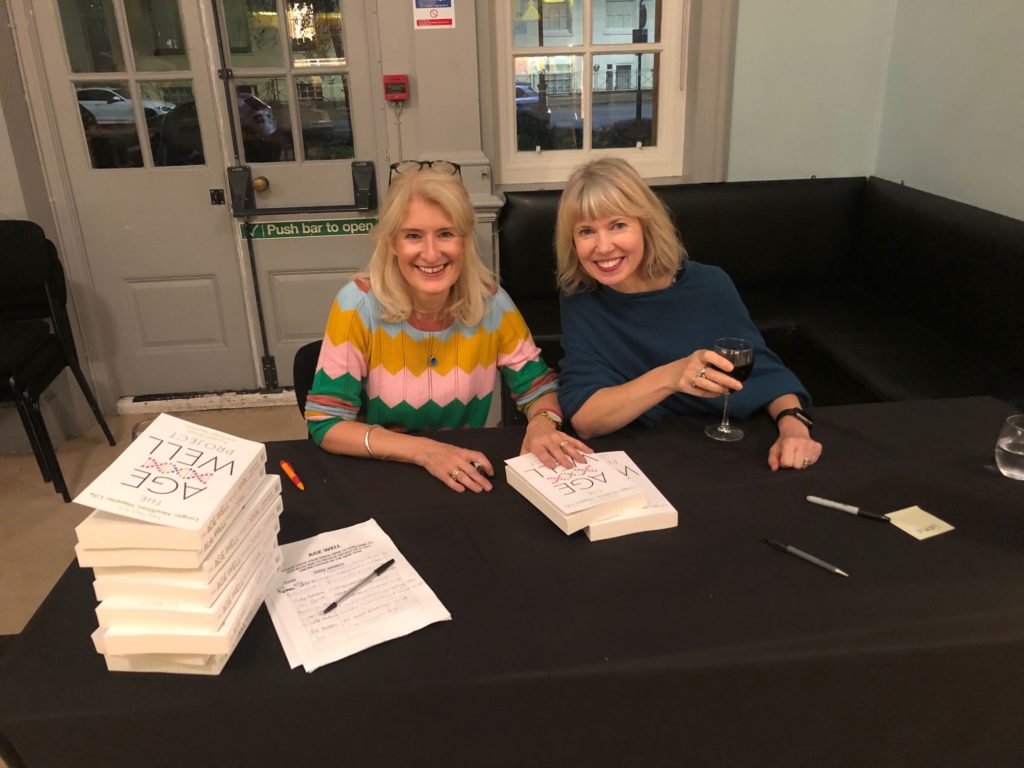 Here we are at the Cheltenham Literature Festival, signing books and having a whale of time. We love chatting to people about The Age-Well Project, answering your questions and hearing your stories. At every event we speak at, we're asked about menopause. Either during a Q & A session or, quietly, afterwards.
Our response is always the same. Our project is about living the longest, healthiest, happiest life we can. We know that menopause can be brutal, but we hope it's one, relatively short-lived, hurdle in a long and happy life. We know how awful it can feel when you're in the middle of it and urge everyone to seek help that works for them.
I've been taking bio-identical HRT for just over a year, and feel great on it, but I know it's a very subjective and  personal choice. I'm also very aware of the controversies around it, and long-term health risks. Research linking the most commonly available form of HRT to an increased risk of breast cancer was published in The Lancet just a few weeks ago. I was cheered, however, by  a study published in the US this week suggests that extended exposure to oestrogen reduces the risk of cognitive decline. I've written more about my personal approach to menopause here and here.
Scientists had long assumed that menopause was some sort of evolutionary quirk, as most female animals die once they are no longer able to reproduce. But in her brilliant book, The Slow Moon Climbs: The Science, History, and Meaning of Menopause, Susan Mattern suggests that, rather than being redundant, menopausal women are key to our survival as a species. For our hunter-gatherer forebears, survival of the next generation depended on those who could provide more food than they consumed. Children and child-rearing women were unable to collect enough food for their needs. It was up to the older women to, if not bring home the bacon, bring home the wilderbeest. In today's foraging tribes, like the Hadza, Mattern writes, women "reach peak foraging productivity in their 50s and continue to produce a caloric surplus through old age."
My take-out from this is that post-menopausal women have evolved to be busy, engaged and productive. And while writing The Age-Well Project may not be quite as useful as foraging for my tribe, I'm thrilled to bits that it's come into my life after the age of 50, with the new opportunities and excitements that it brings. As longevity increases, we are only fertile for a small percentage of our adult lives. Once we leave that behind, there's a lot of time to be productive in other ways. Like writing a book about healthy ageing and having the opportunity to talk about it at wonderful events. We couldn't have done that in the child-rearing years, and we're grateful for the chance to do it now. Annabel and I celebrate the fact that we no longer have to worry about periods, pregnancy (wanted or otherwise) tampons, cramps or contraception and can get on with all the wonderful things that come when fertility goes.
The word 'menopause' was only coined 300 years ago as (male) doctors sought to medicalise the transition women go through from reproductive to not. They described it as a set of symptoms which left women weak and vulnerable, rather than recognising it as an essential, and empowering, life stage. What is exciting today is seeing so many women addressing the challenges and opportunities of menopause and beyond. As Susan Mattern explained in a recent interview, 'Menopause is a transition to a natural, evolved stage of life that has been critical to the success of our species in the past and remains critical to our future, and it ought to be valued and respected. It's a solution, not a problem.'
WORLD MENOPAUSE DAY 2019
As part of our Age-Well Project we've been lucky enough to connect with many women who are pushing back against the embarrassment and fear surrounding the menopause. They're taking it centre stage and making it part of the national conversation as well as offering help and support to those finding this stage of life tough. So, in honour of today's World Menopause Day 2019, let me name check a few of them. Do look out for them on social media, follow their blogs and call on them if you need support.
TELL US ABOUT YOUR EXPERIENCE
What's your experience of the menopause – are you through it and feeling great? Or finding it tough? What's helped you? Maybe you're a man supporting a female partner through this transition. Let us know in the comments below.
Susan