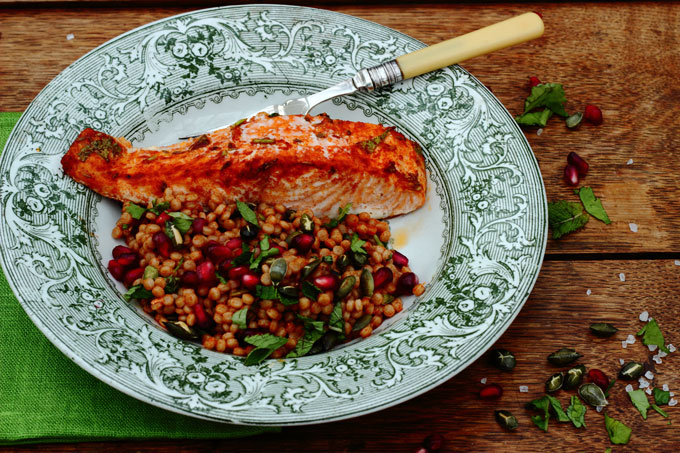 For me, eating well means eating the foods which will reduce my chances of succumbing to dementia and other diseases which can be diet and age related, like cardiovascular disease, diabetes and cancer. So far,  so simple.
Pretty much all the experts agree that eating more veg – particularly leafy greens – is a no brainer for your brain (sorry…) And that refined carbs – particularly sugar – aren't doing you any favours nutritionally. Good fats – nuts, avocado and seeds – get the thumbs up while processed foods get the big thumbs down. Once we get onto meat and dairy things start to blur. There's a school of thought that everything, from diabetes to dementia, can be prevented by a plant-based, whole food, almost (or completely) vegan way of life  – check out http://www.thechinastudy.com/ and http://www.drfuhrman.com/ and http://www.nealbarnard.org/ . But others, like David Perlmutter, author of 'Grain Brain: The Surprising Truth about Wheat, Carbs and Sugar – Your Brain's Silent Killers' http://www.drperlmutter.com/ advocate eating fish, poultry and some dairy but few grains.
In the papers, and online, there's a new study almost every day declaring a breakthrough, which can get confusing: coffee is good for you! Coffee is bad for you! Carbs kill your brain! Carbs fuel your brain! Oily fish is brilliant! Oily fish is full of pollutants! It makes my head spin, which is not good when my primary focus is to reduce my chances of getting dementia.
But I am clear in my mind that a good diet will make a difference.  I'm trying pick my way through all advice, day by day, to reach the best possible diet – one that nourishes me, and my family.
I'm trying not to get hung up on it all, and to find a middle path that works for us – majoring on veg, fruit, pulses and wholegrains in the week and enjoying meat and fish at the weekends. I love a roast, I love fish and – most importantly – I love a meal we can all enjoy together.  I always make sure there's lots of leafy greens though!
THE RECIPE – SWEET PAPRIKA SALMON
(this is adapted from a recipe by the very wonderful Diana Henry in 'Crazy Water, Pickled Lemons')
My children love this, and when we had a couple of families over for supper even the fish-avoiding boys wolfed it down and asked for the recipe.
INGREDIENTS ( for 4)
4 salmon fillets
6tbs olive oil (or avocado oil – see our post on it here)
1 ½ tbs ground cumin
1tbs sweet smoked paprika
1tsp ground cinnamon
Juice of 1 lemon
2 cloves of garlic, crushed
1 small bunch mint and 1 small bunch coriander, chopped
Salt and pepper
200g grains – I love Merchant Gourmet giant wholewheat couscous with this, but quinoa or brown rice would be good too
2tbs pomegranate seeds
2tbs toasted nuts or seeds – I used pumpkin seeds in the pix
Kale or spinach to serve
Mix oil, spices, garlic and lemon juice with half of the herbs in a small bowl to make a marinade. Season to taste – I think it needs a good half teaspoon of salt. Put the salmon in an oven dish and slather over half the marinade. Leave to marinate for a few hours in the fridge, or overnight. Pre-heat the oven to 180 degrees and bake the salmon for around 12 minutes. Cook the grain according to the instructions on the packet then stir in the remaining half of the marinade (you might not need all of it) and herbs,  top with seeds. Serve the salmon and grains with lots of leafy greens.
Susan