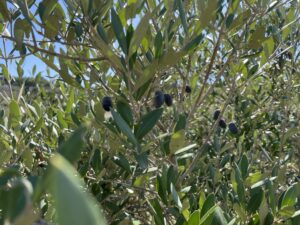 In recent days news broke that dementia rates in England and Wales are expected to double by 2040. That's a shocking increase in a short time, isn't it? It seems that researchers had under-estimated the numbers due to a fall in dementia cases between 2002 and 2008. But between 2008 and 2016 there's been an upward trend. It's an urgent problem for policy makers who must consider the impact on the NHS, social care, families and individuals. As always, we bring you the latest research into simple and effective ways to age well and improve our longevity. There are certain constants in this – like the benefits of olive oil, aka the 'liquid gold' of the Mediterranean. I'm reminding you of this because new research points up a very simple equation: half a tablespoon of olive oil each day reduces dementia risk by 28%.
Switch out mayo and margarine
A study presented at a conference this summer by Harvard School of Public Health looked at the cognition of more than 90,000 people over 30 years. It found that those who consumed half a tablespoon of olive oil each day, as opposed to mayonnaise or margarine, had a 28%  lower risk of dying from dementia. Interestingly, this research found that the brain benefits of olive oil held up, regardless of the quality of the rest of the participants' diet. So even those who didn't adhere to other guidelines of the Mediterranean diet still got the benefits from the oil.
The lead researcher speculated on why this is. She said, 'Olive oil may play a beneficial role in cognitive health through its rich content of monounsaturated fatty acids, which may promote neurogenesis. It also contains vitamin E and polyphenols, which have antioxidant activity.' It seems that an omega 9 fatty acid, oleic acid, is the important factor here. It's been linked better function of the blood brain barrier (I wrote about that here) and the connectivity of different areas of the brain.
Olive oil harvest
Polyphenol levels in olive oil also play a vital role in its brain boosting properties. They help reduce neuroinflammation and slow cognitive decline. They have another role too – giving olive oil its pungency. You know that peppery taste that hits the back of your throat when you consume good extra virgin olive oil? That's its pungency. A work project took me to Malta recently and I was lucky enough to spend a day at the olive harvest at Bidni Extra Virgin Olive Oil. The Bidni olive is endemic to Malta and grows in the island's rural heartland, Bidnija. I learnt so much about olives – for a start, I didn't realise that green and black olives are the same olive, green are unripe ones, black are ripe. I thought they were different varieties of olives!
The skill in creating a great tasting olive oil is knowing exactly when to harvest – too early and the oil will be bitter from too many green olives; too late and it will be bland from too many black ones. The three taste parameters that we should be looking for in a good olive oil are pungency, fruitiness and bitterness. The three should be balanced. For the first time ever, I tasted a raw olive, fresh from the tree. Oh my goodness, it was bitter! The pepperiness was there but the bitterness was something else.
A first taste
To preserve all the unique, complex tastes and health benefits of the oil, the olives need to get to the press within 24 hours. Harvesting is a labour-intensive, back-breaking process and yields are down this year due to the hottest summer on record. But the end result of all the hard work was astonishing. I tasted the oil a few hours after it came out of the press and the grassiness was incredible. One of the best things I've ever tasted. I'll pop a video of my tasting on our Instagram account @agewellproject so you can see my face on first taste!
This is exquisite, monovarietal olive oil to be savoured and enjoyed. With all the work that goes into it, it's not cheap. I brought a bottle home with me and am using it, sparingly, to lubricate steamed green vegetables and dress salads. I keep a more regular olive oil for general use in my kitchen and rarely use other fats for cooking.
REST RESET URBAN RETREAT
On Saturday November 11th, I'm hosting a day of rest and relaxation with our friend,  incredible Yoga Nidra teacher Kanan Thakerar. I'm so thrilled with the content of the beautiful day we've planned: do join us if you can. I love the gentle, restorative practice of Nidra: it's been scientifically-proven to keep our brain 'plastic', ie able to create new synapses. This in turn helps reduce stress and dementia risk. Think of it as 'conscious relaxation' – Nidra works on the brain by regulating levels of our 'happy hormones', the neurotransmitters dopamine and serotonin. This in turn improves sleep – vital for better brain health.
During the day there will be two full sessions of Yoga Nidra – one walking, one lying down. No Lycra required! I'll be with you all day to support you, as well as giving a talk and coaching session on how rest and sleep impact our brain health – and how to improve them. We've got a super-cool venue, there's a delicious lunch, and of course it's an opportunity to connect with a great group of women. You'll walk away feeling deeply restored and refreshed.
Tickets are strictly limited and are on sale now – click here to book. And use the code REST10 for £10 off as an Age-Well Project subscriber.
Susan