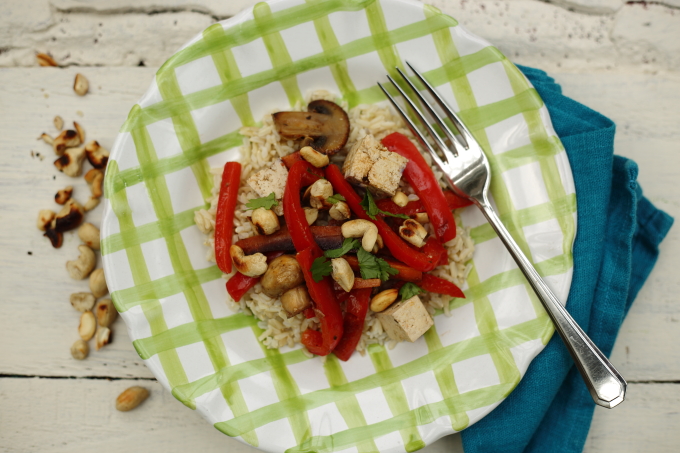 Did you celebrate Chinese New Year this weekend? It ushered in the year of the Rooster which means a busy year ahead, apparently (much like any other year for many of us in the 'sandwich' generation…) We celebrated with some delicious food: luckily our local Chinese restaurant has a good meat/fish-free selection on the menu as it was still Veganuary for me.
We were lucky enough to spend Christmas in China. We ate some sumptuous food but were surprised to see so much meat on every (groaning) table. We joked about how you wouldn't want to be a pig in China as we tucked into many a delicious pork dish – the Chinese eat 50% of the pork produced worldwide. Even the Chinese government believes that too much meat is eaten there, and recently declared that meat intake should be reduced by half by 2030. These dietary guidelines aim to reduce rapidly growing rates of obesity, diabetes and heart disease in the country.
It just shows how quickly a rapid increase in meat consumption can affect the health of a nation. Ironically, when I first became interested in the link between diet and health, one of the first books I read on the subject was The China Study by Dr T. Colin Campbell, about research done in the 1970s and 1980s into why the Chinese had much lower instances of age-related degenerative diseases than we do in the West. The overwhelming conclusion was that the Chinese were protected by the sparse use of meat and dairy in the diet, and the reliance on vegetables and grains. Of course, not everyone agrees with him – Google 'China Study debunked' if you want to know more about the arguments against his findings.
China today would be a difficult place to be a vegan – vegetables are simmered in meat stock, plain noodles are enriched with pork fat, and every bit of the animal is used, from pigs' tails to ducks' tongues. It's not a place to be squeamish, either.
But there are a lot of delicious tofu recipes on the menu in China, among all the pork, so I've been inspired to add some to my repertoire. Some of the clean eating brigade eschew tofu on the grounds that it's heavily processed – which it is – but it's a good source of lean protein which has been a bonus for me during Veganuary. I have to say that I found being vegan for a month more challenging than I expected (I still can't give up milk in my tea and it's hard to work out what to eat when the only options for dinner are in a Travelodge vending machine). But I stuck to it by and large,  feel great as a result – and rushed to binge on meat and dairy now February is here. This week's recipe is a mild and simple stir fry which the whole family likes. Do feel free to sub in which ever vegetables you have to hand.
TOFU AND CASHEW STIR FRY (serves 4)
400g firm tofu (not silken)
50g raw cashews
1 tbs of oil, plus a splash more to cook  the cashews
2 cloves garlic, peeled and crushed
2 tsp ginger pulp
2 spring onions, white parts only, finely sliced
2 red peppers, cut into thin strips, core removed
2 carrots, peeled and finely sliced or julienned
200g mushrooms, wiped and sliced
2 tbs soya sauce
2 tbs oyster sauce
Drain the tofu well and pat dry with paper towels. Cut into small cubes – about l.5 cm square. Make sure you've got all the rest of the ingredients prepped and ready to go, along with a small jug of water. Heat a splash of oil in a large wok and stir fry the cashews until they are golden brown. Careful – they burn easily (as you can see from the picture!). Scoop  them out of the wok and drain on a piece of kitchen roll.
Add the remaining tablespoon of oil to the pan, then add the garlic, ginger and spring onion. Cook for 30 seconds Keep the heat on medium so they don't burn. Add the mushrooms, peppers and carrots and stir fry for another 30 seconds or so. Add the sauces and a good splash of water. Clamp a lid on the top (my wok doesn't come with a lid so I use a large saucepan lid and stick it straight over the vegetables). Cook for 3-4 minutes, until the veg is softened to your liking. Gently stir in the tofu and add another couple of tablespoons of water so there is enough sauce to coat the tofu. Cook on a low heat for a couple more minutes so the tofu can absorb some of the sauce and heat through. Sprinkle over the cashews. Serve immediately with rice.
Susan