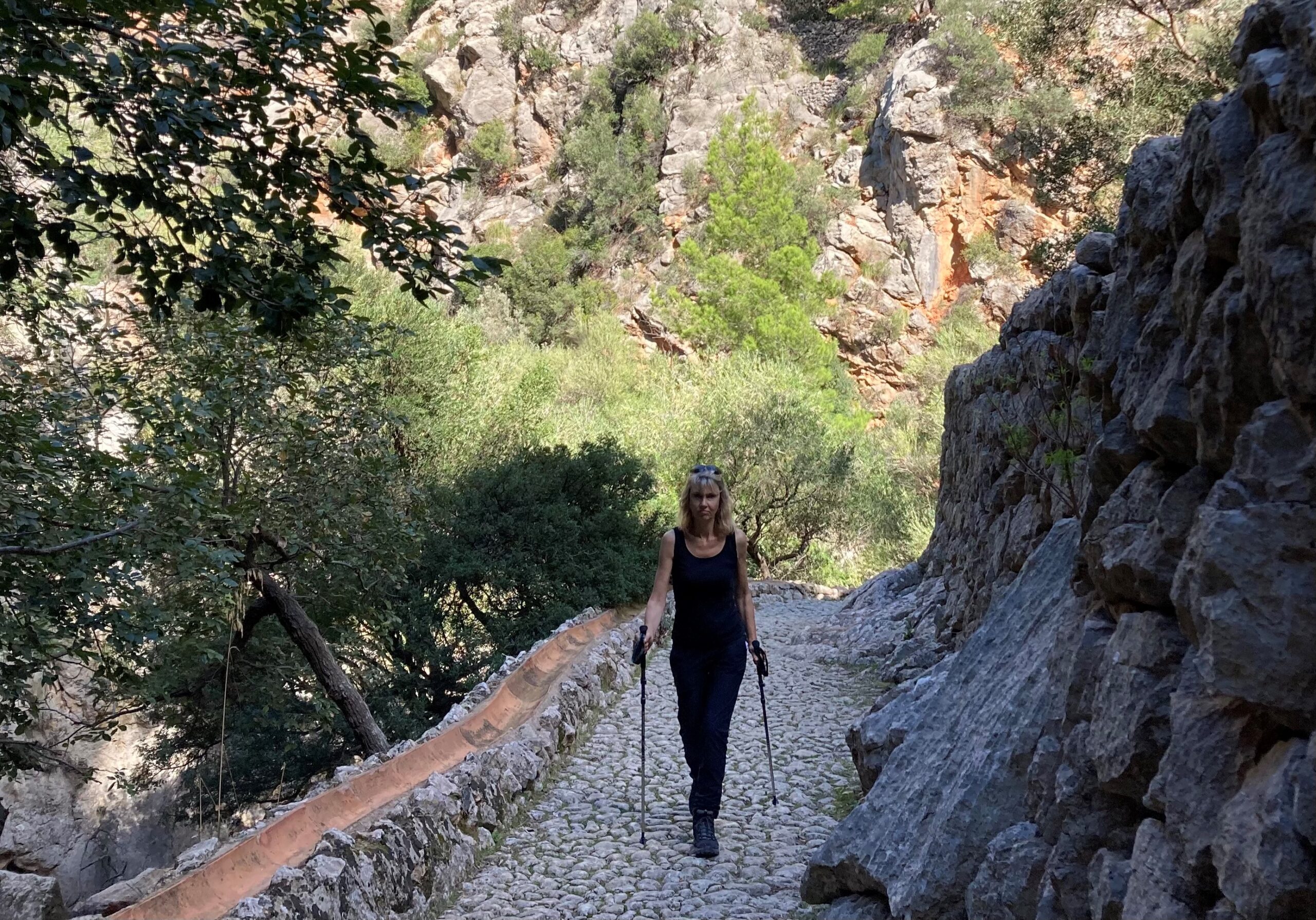 It's nearly May, which is National Walking Month – an initiative started in 2007 by the American Heart Association to encourage more people to … walk!
And so this month I'll be examining some of the latest studies into various aspects of walking. If you've read 52 Ways to Walk you'll know that I went into great detail on all sorts of things (from barefoot to backwards) but that I didn't give much space to walking with poles.
Why so little mention of poles?  Well, there wasn't enough quality data to make a decent and interesting chapter. Most studies looked at the use of poles on a treadmill (yes, really!).  But a  new study published four months ago changed this, so today I'm revealing why we should all invest in a pair of walking (sometimes called trekking) poles – particularly those of us that enjoy hiking. Or those of us with lower back pain, obesity, Parkinson's or general frailty.  Or those of us that want a more youthful gait. Or those of us that want to work all our muscles without going to a gym or messing around with weights. Or those of us that want our exertions to feel less … exerting!
Before you ask, yes, Nordic poles will achieve the same results. Actually, poles were invented in Finland, originally as Nordic track poles. But trekking/walking poles (or two sticks) essentially provide the same benefits. So I'm using the word 'poles' to mean any stick that helps propel you along as you walk.
I've used walking poles sporadically for the last four years.  Before that I never bothered, but I found that for going up and downhill, poles were invaluable. If you're hiking with a backpack, poles are also very useful: they reduce the strain on lower body muscles while helping balance and stability.
On steep descents, poles take the weight from our knees. On hill climbs they enable the upper body to bear some of the weight, making the climb less arduous. This means less muscle soreness afterwards, according to this study.  Indeed, this study found that poles reduced the force on our lower joints (knees, hips, ankles etc) by 12-16%.
On uneven ground poles provide additional balance, making us feel more confident about our walking while reducing the chance of falls.
I like fold-up or telescopic poles that can be put away when they're not needed.  Because walking with poles means the whole body is put to work, thereby using up more energy. This is their primary downside.  The good news, however, is that they enable our upper body to be worked – meaning a walk can become a full body workout without us feeling unduly exhausted. And no gym, dumbbells or weights involved.  Studies also suggest that when we walk with poles our muscles work harder but we feel it less.
Moreover, using poles means we often adopt a longer stride with less pressure on our knees (what the study authors call 'a less flexed knee at heel strike').  We also typically speed up.  So if you're looking to walk faster, for longer, with less chance of injury, poles are for you. A longer, faster stride means less impact as we walk to our destination – so less pressure on lower joints. And, as we posted on Instagram this week, a brisker pace can add 16-20 years to our lifespan according to a new report from Leicester University which found that a lifetime of brisk walking substantially increased the length of telomeres – the caps that protect our DNA and indicate how well we're ageing.
Interestingly, our gait can change with poles. We often lean forward fractionally – which also cuts pressure on our knees.
One pole or two? My husband likes one pole. I like two. This study didn't investigate the difference other than to find that one-pole improved balance and cut the chances of falling or stumbling, as much as two poles.
For those with Parkinson's, walking with poles improved coordination, balance, mobility, walking speed, postural stability, as well as muscle strength.
This study also found that older people who regularly used poles walked with the gait of 'young adults'. Which is to say – and I'll quote direct from the report – 'walking with poles may counteract gait deterioration that comes with ageing.' This is because poles appear to slow the degradation and damage of joint cartilage. Yes, please to youthful gait!
Finally, poles can reduce lower back pain by taking some of the loading that would otherwise have been applied to our spine. In this study the lower back pain sufferers had less pain than a control group after eight weeks of walking with poles.
Still not convinced?  Well, this study also found that pole-walkers improved their co-ordination, balance, functional mobility and general quality of life – improvements that stuck around for five months after they stopped using poles.
Regular Nordic walkers will respond to this with an 'I told you so'.  They're a loyal bunch – perhaps because they've experienced the benefits first-hand.  Three years ago the founder of Nordic Walking in the UK gave me a private lesson on Hampstead Heath and told me that walking with poles works 90% of our muscles.  I loved my session. And I love grabbing my walking poles and heading into the hills – where I discovered that poles have numerous other benefits. From waving at menacing packs of bullocks, to hanging a head torch from on a night hike.  Of which more later.
Although they achieve the same results, Nordic poles are designed slightly differently from trekking poles – so get the right ones for your needs.
BTW I use Black Diamond Women's Trekking Poles – lightweight, foldable, a little pricey but they should see me out (or off the mountain at any rate).
What's your experience of poles? Leave a comment and let us know…
I'm leading a number of guided walks in the next few months, with the next one in Oxford on 14 May at 3.00pm. If you fancy joining me, details here.
Annabel